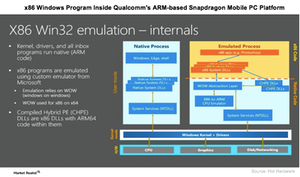 How Intel Plans to Address the Qualcomm-Microsoft Threat
By Puja Tayal

Updated
Intel challenges Qualcomm-Microsoft deal
Intel (INTC) is facing strong competition from Advanced Micro Devices' (AMD) new Ryzen series in the PC (personal computer) space, forcing it to cut its prices. Intel is also facing competition from Qualcomm (QCOM) in the notebook segment.
To date, Microsoft's (MSFT) Windows OS (operating system) has been available exclusively on Intel's x86 and Atom processors for PCs and tablets. After Intel discontinued its Atom mobile processors in early 2016, Microsoft partnered with Qualcomm in December 2016 to bring Windows 10 into ARM processors.
As part of this partnership, Microsoft announced that it would make all Windows 10 applications run on Qualcomm's Snapdragon 835 ARM processor using emulation.
In June 2017, Intel announced that it would file a lawsuit against any company that creates a software emulator to run its x86 Win32 apps such as Microsoft Office 2016 without its permission.
Article continues below advertisement
Impact on Intel
Intel is unlikely to license its x86 Win32 apps to any ARM chip provider because such a deal would dig its own grave. ARM design is a competitor of x86 design in the low-power processor market. Only two companies, Intel and AMD, have access to the x86 design.
If Qualcomm's ARM processors gain access to Win32 apps, it could open up the PC market to all ARM IP (intellectual property) licensees, including NVIDIA (NVDA), Samsung (SSNLF), Apple (AAPL), and MediaTek. These ARM licensees would compete with Intel in its profitable notebook subsegment.
Intel's CCG (Client Computing Group) segment contributes 55% to the company's revenue and over 80% to the company's profits. Rising competition could accelerate the fall of the CCG segment's revenue, affecting the overall company's earnings.
Impact on Qualcomm and Microsoft
Qualcomm is already facing a class-action lawsuit from Apple and several probes from regulators. Amid all this, Qualcomm will likely not be willing to fight a lawsuit with the chip giant.
On the other hand, Microsoft is likely to cancel the partnership, as it doesn't make sense to launch tablets and notebooks that can't run x86 Win32 apps. The company already wrote down $900 million in losses in 2013 due to the failure of its ARM-based Windows RT cellular PC. The cellular PC failed because it couldn't run Win32 applications.
In May 2017, Intel expressed its interest in developing an e-SIM that would bring Windows to the cellular PC. The e-SIM would feature an x86 processor, removing the need for a software emulator to run Win32 apps. Moreover, its performance would be better than an ARM-based cellular PC with a software emulator.
Intel is searching for a replacement for its PC business. Next, we'll see if the Internet of Things market presents a sufficient enough growth opportunity to replace Intel's PC business.