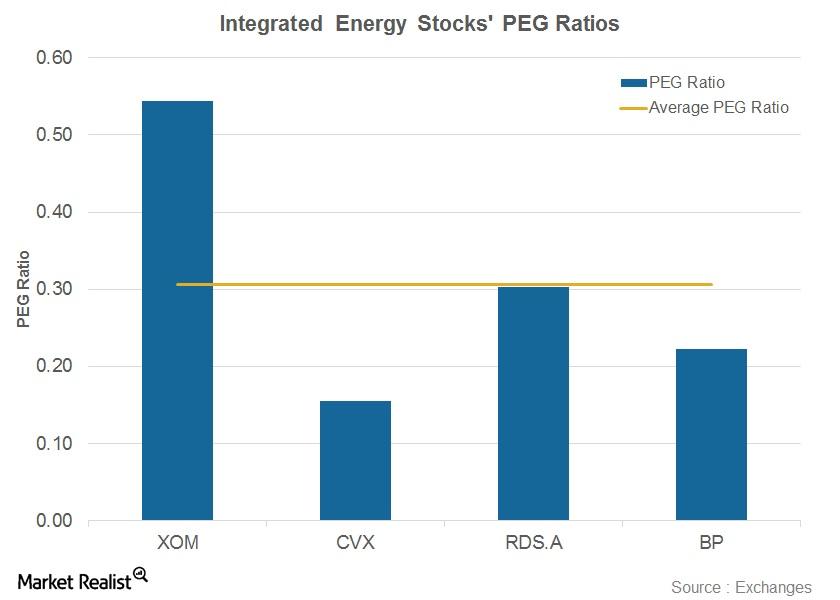 Comparing Integrated Energy Stocks' Valuation
By Maitali Ramkumar

Nov. 20 2020, Updated 3:57 p.m. ET
Integrated energy stocks' valuation
Previously, we looked at integrated energy stocks' short interest movements, which reflected a marginal rise since April. In this part, we'll switch to a valuation analysis, beginning with PEG (price-to-earnings-to-growth) ratios. We'll look at forward valuation in the next part.
The PEG ratio examines a stock's valuation after factoring in the expected future growth rate. We'll consider integrated energy stocks' mean estimated PEG ratios. The mean estimate is arrived at by considering their mean price-to-earnings ratios and mean blended earnings growth rate. Usually, with everything else being equal, a PEG ratio lower than one signifies an undervalued stock.
ExxonMobil (XOM) has the highest PEG ratio of 0.54, above the average of 0.31 among peers Chevron (CVX), Royal Dutch Shell (RDS.A), and BP (BP). These peers have ratios of 0.16, 0.30, and 0.22, respectively.
Article continues below advertisement
Integrated energy stocks' capex
The PEG ratio considers not only the growth rate for the next two years but also the long-term growth rate. Integrated energy companies, to improve their earnings, have taken strict measures in the past few years. XOM, CVX, Shell, and BP have been working on their cost structures to create a leaner model with a focus on core assets. Also, capital expenditure has been optimized to concentrate on projects that are competitive and fit the companies' overall strategy.
In 1Q17, Chevron (CVX) had the highest capex of $4.4 billion, of which 90% was in the upstream segment. CVX continues to spend on major upstream projects such as Gorgon and Wheatstone in Australia, and other projects globally. For more on Chevron's growth plans, read Chevron's Upstream Segment: Production Growth on the Horizon?
Shell's capex stood at $4.3 billion in 1Q17, concentrated in the upstream segment. Shell has incurred 77% of its capex in the upstream segment (including integrated gas) and 23% in the downstream segment. Shell has a robust upstream portfolio, poised for production growth, which is likely to support earnings growth for the company. For more on this, please refer to Shell's Upstream Portfolio: Is it Poised to Grow?
In 1Q17, XOM incurred a capex of $4.2 billion, ~75% of which went toward its upstream segment. XOM focuses on an integrated approach to capital spending. Additionally, XOM plans to spend heavily on building massive refining-cum-petrochemical capacities on the US Gulf Coast. For more on XOM's future growth plans, read What's ExxonMobil's Future Growth Trajectory?
BP's organic capex for 1Q17 stood at $3.5 billion. In 1Q17, BP incurred 84% of its capex in the upstream segment and 13% in the downstream segment. BP kickstarted a major project in the West Nile Delta in 1Q17. Plus, the company has a pipeline of projects ready to spur production growth in 2H17. For more on this, refer to BP's Upstream Projects Pipeline: Ready to Spur Production Growth.