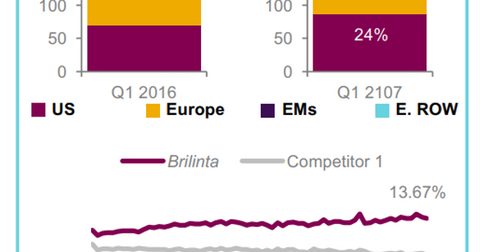 AstraZeneca Expects Brilinta to Become a Blockbuster Therapy in 2017
By Margaret Patrick

Updated
Brilinta revenue growth
In 1Q17, AstraZeneca's (AZN) Brilinta reported total revenues of ~$224 million, which equals 27% growth year-over-year (or YoY) on a constant currency basis. This is mainly attributed to the increasing adoption of this cardiovascular drug in the US, China, and other emerging markets.
The drug witnessed 24% YoY growth in sales in the US, while revenues from emerging markets rose 54% YoY and reached $60 million. Brilinta also witnessed robust 68% YoY revenue growth in the Chinese market in 1Q17.
In Europe, the drug witnessed 12% YoY revenue growth in 1Q17. Based on its solid revenue growth trends, AstraZeneca expects Brilinta to cross the $1.0 billion revenue mark in 2017. To learn more about Brilinta, please read Why AstraZeneca's Brilinta Could Become a Blockbuster Drug in 2017.
The continued adoption of Brilinta is expected to boost AstraZeneca's stock price as well as the BLDRS Developed Markets 100 ADR Index ETF (ADRD). AstraZeneca makes up about 2.1% of ADRD's total portfolio holdings.
The chart above shows the growth trends for Brilinta in 1Q17. The drug has enabled AstraZeneca to pose solid competition to other cardiovascular players such as Sanofi (SNY), Eli Lilly & Co. (LLY), and Bristol-Myers Squibb (BMY).
Article continues below advertisement
Growth drivers
Brilinta has become a leading player in the oral antiplatelet (or OAP) market, mainly due to restrictions imposed on its competitor's label as well as positive changes in guidelines issued by American College of Cardiology and the American Heart Association.
Despite not being included in China's National Reimbursement Drug List (or NRDL), Brilinta earned ~58% of its emerging market revenues from this market in 1Q17. AstraZeneca is currently involved in negotiating favorable reimbursement for the drug in China.