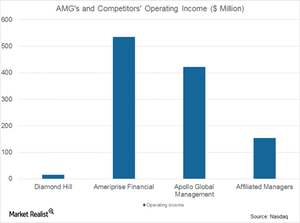 AMG Expects Fundraising in Private Equity
By Raymond Anderson

Jul. 10 2017, Updated 7:39 a.m. ET
Fundraising in 2H17
In 1Q17, Affiliated Managers Group (AMG) did not see fundraising in private equity, though it did see realizations. According to management, large fundraising in private equity is expected towards the end of 2017 and at the beginning of 2018. This fundraising is expected due to strong performance by private equity affiliates Pantheon and EIG Global Energy Partners.
As of March 31, 2017, AMG's alternative business formed 39% of its AUM (assets under management). This business generated strong inflows, mainly due to the strong performance posted by relative-value, fixed-income and multi-strategy products. In 1Q17, the company's alternative business experienced strong organic growth, with net inflows of $4.3 billion from its liquid alternative subcategories.
Article continues below advertisement
Performance in 1Q17
In 1Q17, AMG posted revenue of $1.4 billion, a rise of 37% YoY (year-over-year), due to growth in its equity method revenue. Equity method revenue is revenue earned by equity investments. As these equity investments are made by affiliates of AMG, it posted strong revenue numbers. In 1Q17, AMG posted an economic net income of $183.2 million, a 15% increase YoY. This increase was mainly due to a reduction in the company's leverage, which resulted in lower interest expenses.
As of March 31, 2017, AMG's operating income stood at $153.9 million. In comparison, alternative asset managers' (XLF) operating income as of March 31, 2017, was as follows: