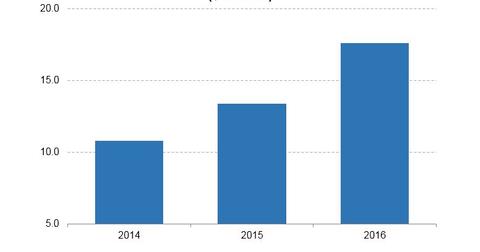 Why Would Amazon Invest in Autonomous Driving?
By Ruchi Gupta

Updated
A team set up to study autonomous driving
A report emerged in April this year that Amazon (AMZN) had created a team of about one dozen employees to explore autonomous driving opportunities. The report, released by The Wall Street Journal, stated that the team wasn't looking into how Amazon could make money selling autonomous vehicles, but how it could leverage autonomous vehicles to make its delivery system more efficient.
Amazon is also eyeing expansion into the transportation business, where it could use its fleet of jets, ships, drones, and autonomous trucks to deliver goods on behalf of merchants. Moving into the transportation business would see Amazon taking on FedEx (FDX) and United Parcel Service (UPS) to generate extra revenue.
Article continues below advertisement
Cost-cutting comes before growth
The priority for Amazon in embracing autonomous driving would be less about unlocking new revenue sources and more about reining in operating costs so that it can improve its profitability.
A huge chunk of Amazon's sales are lost to shipping expenses. In 2016, for instance, its fulfillment expenses ballooned 31.0% to $17.6 billion, the fastest rise in fulfillment costs in at least three years. Fulfillment expenses wiped out 13.0% of Amazon's net sales in 2016, compared to 12.5% of its net sales in 2015 and 12.1% of its net sales in 2014.
Adopting driverless trucks could help Amazon to save billions of dollars in shipping costs.
Faster delivery
With autonomous trucks, Amazon could also increase its delivery speeds. Unlike human drivers, who are limited to driving ten hours at a time, automated trucks can drive all day and all night, significantly cutting down the time it takes to deliver orders.
Boosting delivery speeds could add more appeal to Amazon's Prime program and bolster the company's competition against rivals such as Walmart (WMT) and Target (TGT).