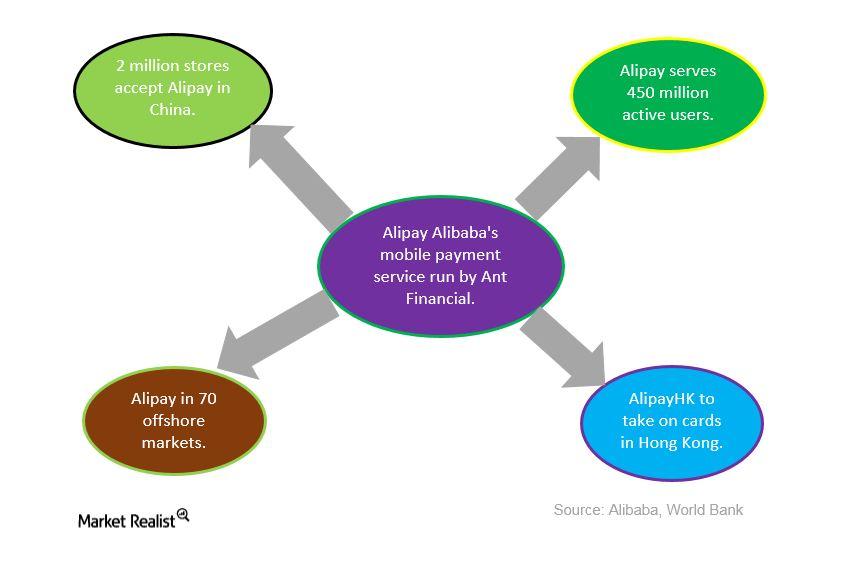 Why Sustaining AlipayHK Could Make Alibaba Sweat
By Neha Gupta

Jun. 5 2017, Updated 5:35 p.m. ET
First support for non-yuan currency
Alibaba (BABA) recently launched a version of its Alipay app in Hong Kong called AlipayHK. Alipay is operated by Alibaba's payments arm, Ant Financial, which is in the process of swallowing Moneygram (MGI) in a $1.2 billion transaction.
The launch of AlipayHK is an unusual move for Alibaba. It marks the first time that Alipay will support transactions in a currency other than the Chinese yuan. Although Alipay is available in 70 overseas markets, transactions on the platform have been limited to the yuan, China's domestic currency. However, the launch of AlipayHK adds support for the Hong Kong dollar, a move that could imply that Alibaba is starting to expand its currency options for Alipay customers.
Article continues below advertisement
Upending card culture in Hong Kong
The other reason the AlipayHK move is unusual is that it appears to buck recent Alipay launch trends. Alibaba mostly seems to have been eyeing the unbanked masses in large emerging markets (EEM) with Alipay. However, Hong Kong is not only a small market with just ~7.3 million people, according to the World Bank, the penetration of payment cards is also quite deep in the city. With AlipayHK, Alibaba is giving itself the challenge of upending Hong Kong's credit card culture.
The cost of upending a culture
Alibaba could succeed in upending the credit card culture in Hong Kong, but its success would likely come at a steep cost. For example, Alibaba would likely have to employ steep fee discounting to entice Hong Kong merchants and shoppers to embrace AlipayHK. Such a move would eat into the profitability of the business.
However, if the move aids Alibaba's payment competition against Tencent, PayPal (PYPL), Samsung (SSNLF), and Apple (AAPL), it'll be worth it. Alipay boasts ~450.0 million active users, it's accepted by over 2.0 million retail outlets in China, and it's supported at over 120,000 stores abroad.