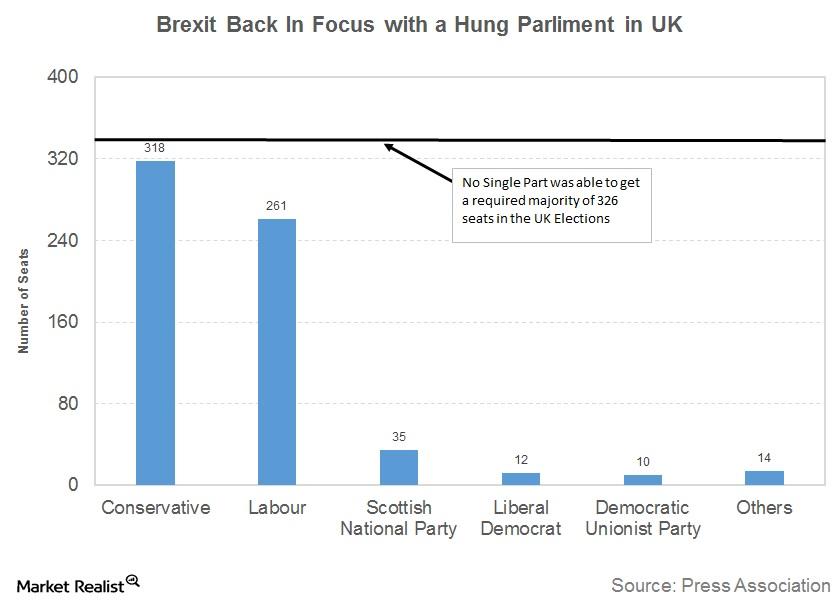 Super Thursday Surprise: The UK Election
The UK election: Super Thursday's key event
The UK's hung parliament result on Thursday, June 8, was the only real surprise that markets witnessed on what was being referred to as "Super Thursday." Markets had been nervous going into the events of the day, with many investors staying away from markets before the big day.
Notably, there weren't many major surprises from former FBI Director James Comey's testimony to the US Senate's special committee investigating Russian involvement in US elections, nor from the ECB (European Central Banks) on Thursday. Market reactions were largely positive, in fact, with the S&P 500 Index (SPY) closing at 2,433.79—up by 0.03%—and the NASDAQ (QQQ) and the DOW 30 (DIA) closing at gains of 0.39% and 0.04%, respectively.
US markets were closed before the UK election results were declared on June 8, but Asian and European markets did show minimal signs of risk aversion, following the negative surprise in the UK elections.
Article continues below advertisement
Volatility has reduced after the events
The CBOE Volatility Index (VIX) (VXX), which is considered as a measure of uncertainty and investor fear, has rallied ~7% since the beginning of the week leading up to Super Thursday, but VIX has fallen 2.21% now that events have unfolded. Safe havens like gold (GLD) and US Treasuries (BND) have also witnessed falls in demand, as the perceived risks appear now to have subsided.
In this series, we'll discuss the events of Super Thursday in further detail and understand their implications for financial markets.