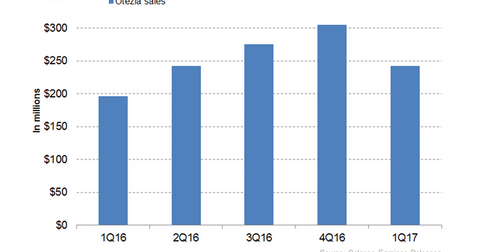 Otezla Could Significantly Drive Celgene's Revenue Growth
By Daniel Collins

Updated
Otezla revenue trends
In 2016, Celgene's (CELG) Otezla generated revenues of around $1.0 billion, a 116% year-over-year (or YoY) increase. Celgene's direct-to-customer and direct-to-physician marketing campaigns have created significant awareness about the drug among the physician and patient community.
In 1Q17, Otezla reported revenues of ~$242 million, which is a 24% YoY growth and a 21% decline on a quarter-over-quarter basis. Celgene anticipates that Otezla might generate revenues in the range of $1.5 billion to $1.7 billion in fiscal 2017. The success of Otezla may positively impact the Vanguard Growth ETF (VUG). Celgene makes up ~0.89% of VUG's total portfolio holdings.
Article continues below advertisement
About Otezla
Otezla (apremilast) is a phosphodiesterase 4 (or PDE 4) inhibitor, indicated for the treatment of patients with active psoriatic arthritis and moderate to severe plaque psoriasis who are eligible for phototherapy or systemic therapy.
Revenue-driving factors
Otezla has managed to secure full reimbursement in Japan and Europe, which could significantly help grow Otezla's market share.
Celgene has initiated a phase three trial to explore Otezla for the treatment of scalp psoriasis. Celgene is also planning to file an application to the US FDA (Food and Drug Administration) seeking approval for Otezla as a once-daily formulation for the treatment of scalp psoriasis.
Celgene is also carrying out other clinical trials with Otezla for label expansion. The company is presently involved in a phase three trial studying Otezla for Behcet's disease and a phase three trial exploring the drug in ulcerative colitis and atopic dermatitis indications. The success of these clinical trials could help in expanding the drug's addressable market size and could subsequently result in sales volume growth.
Celgene's geographic expansion strategy for Otezla, which is mainly focused on increased penetration in European markets, may push the drug's revenue growth further.
The drug faces stiff competition from AbbVie's (ABBV) Humira, Johnson & Johnson's (JNJ) Stelara, and Amgen's (AMGN) Enbrel.