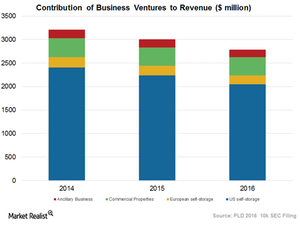 Acquisitions, Diversification Help Public Storage Keep Momentum
By Jennifer Mathews

Updated
Demographic changes spike demand
Self-storage facility owners such as Public Storage (PSA), Life Storage (LSI), Macerich Company (MAC), and Extra Space Storage (EXR) are expected to ride high backed by higher demand for storage, mainly due to demographic changes and higher rent.
High rent, especially in in-demand cities, has prompted people to move to smaller apartments and keep their properties in storage facilities, triggering a spike in demand for Public Storage's properties.
Public Storage and Extra Space Storage occupy almost 9% of the iShares Cohen & Steers REIT ETF (ICF).
Article continues below advertisement
Locational advantage maintains demand
Public Storage has facilities in the busiest commercial and most densely populated localities. The proximities of these locations to multifamily communities, renowned colleges, universities, and shopping malls helps the company to maintain higher occupancy.
Growth through acquisitions
Public Storage grows organically through acquisitions. It acquired a total of 76 facilities with 5.6 million net rentable square feet from the beginning of 2015 to March 31, 2017. The company acquired 55, 17, and 44 facilities, respectively, from third parties in 2014, 2015, and 2016. It also acquired five self-storage facilities worth $25.5 million during the first three months of 2017.
On March 31, 2017, PSA owned 2,342 self-storage facilities in the United States, one self-storage facility in London, and three commercial facilities in the United States.
Article continues below advertisement
Strategic investments in Europe
PSA's investment in Europe ensures a stable market and a buffer for macroeconomic headwinds in the United States. The company has a 49% stake in Shurgard Europe, while its joint venture partner owns the remaining 51%. Shurgard is a leading self-storage operator in Western Europe.
The self-storage industry is small in Europe, with ~2,000 properties, most of which are in the United Kingdom. The company's joint venture helps it to garner a steady profit from the self-storage sector in the region. In Europe, Shurgard grows via acquisitions and new developments, as well as via improving occupancies and revenue for its same-store properties, recently acquired properties, and developed properties.
Product diversification
PSA also has a separate commercial business through its joint venture with PS Business Parks (PSB). The company has 42% equity interest in PSB. The joint venture allows Public Storage to have access to PSB's strategically located properties in the West Coast, Texas, Washington, D.C., and Florida. PSB is a commercial REIT that owns and manages business parks containing office flex spaces.
Public Storage's business consists of the US Self-Storage, European Self-Storage, Commercial Properties, and Ancillary segments. The above chart shows the contributions of these segments to PSA's total revenue.
In the next article, we'll see how the company maintains its share through the development of its properties.