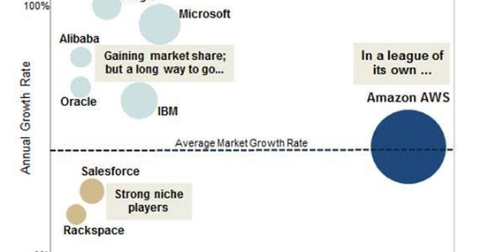 Why Salesforce Is a Distinct Investment Option in the SaaS Space
By Anne Shields

Updated
Salesforce's unit economics
Earlier in this series, we discussed hedge funds' growing interest in the tech space. Salesforce (CRM) seems to have caught their eye, as evidenced by Third Point LLC's increased stake in the company.
According to a 2017 Credit Suisse report, "In 2017, investors will continue to have a bias towards organic high-growth SaaS vendors with strong cash flow generation prospects and favourable unit economics." With unit economics, Credit Suisse refers to retention rates, recurring revenue mix, recurring revenue gross margin, and efficient sales and marketing spending.
A company's favorable unit economics could warrant it a premium valuation in comparison to its peers. Unit economics also apply to Salesforce, which derives the bulk of its revenues from subscription and support revenues and has consistently reported double-digit revenue growth.
With each passing quarter, Salesforce has managed to expand its margins, indicating an efficient sales and marketing spending strategy. Its investment in Salesforce Einstein, its AI platform, also makes it stand out from its peers.
Salesforce's cash flow growth surpassed its revenue growth. Its operating cash flow grew 29%, while its revenues grew 26% in fiscal 2017. The company's cash flow achieved a milestone in fiscal 2017 when it crossed the $2 billion threshold.
Article continues below advertisement
Mounting competition cannot be ignored
Although Salesforce is leaving no stone unturned in its effort to retain its position in SaaS and the overall cloud space, its prospects are likely to be rationalized due to mounting competition posed by Microsoft (MSFT) and Oracle (ORCL). Recently, Microsoft announced a price cut that could impact Salesforce Sales Cloud, as we discussed earlier in the series.
Salesforce strategically acquired Demandware to establish itself as a lead player in the marketing cloud space, and its marketing cloud product grew the most. As Adobe (ADBE) leads the marketing cloud space, Salesforce's expectation of generating a $1 billion run rate from its marketing cloud could be thwarted.