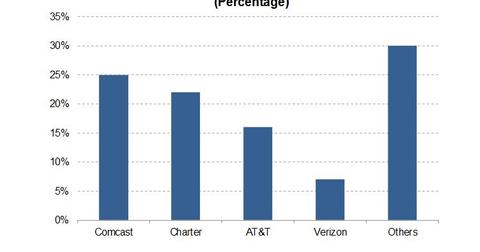 What Could Verizon and AT&T Do with New Regulatory Freedom?
By Ruchi Gupta

Updated
FCC drops price restrictions
The FCC (Federal Communications Commission) voted in April to undo the rule that imposed price limits on the business data services (or BDS) market. These services include broadband Internet access services that support enterprise operations such as connecting bank branches and ATM networks or credit card readers in a retail store. AT&T (T), Verizon (VZ), and CenturyLink (CTL) are major providers in the BDS market.
Article continues below advertisement
Motivation behind the FCC move
The removal of the BDS price caps means that AT&T and Verizon can now charge more for their services. The FCC reasoned that this move would encourage BDS providers to invest in upgrading their systems so that customers can enjoy even better services. The regulator also envisions that doing away with the price caps could cause competitors such as Sprint (S) to build their own facilities. If they do that, the market will be more competitive, leading to better services and prices for customers.
Comcast (CMCSA) also thinks the FCC made a wise move by eliminating what its senior vice president, David Cohen, described as investment-killing regulations.
Potentially more cash for reinvestment in growth
Verizon and AT&T could take advantage of the new regulatory freedom to generate more cash to invest in their network upgrade programs or support their revenue diversification efforts. The carriers have been eyeing the media and advertising market for growth opportunities beyond their core operations.
For Sprint and T-Mobile (TMUS), a wealthier AT&T or Verizon would be tough to challenge.