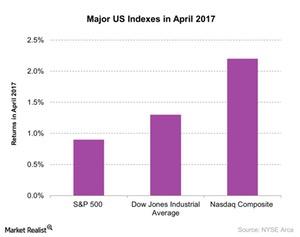 Why the S&P 500 Index Rose Marginally in April 2017
By Sarah Sands

Nov. 20 2020, Updated 5:11 p.m. ET
The S&P 500 Index in April 2017
The S&P 500 Index (SPY) (QQQ) showed marginal improvement in April 2017 as compared to March 2017. It returned nearly 0.9% in April 2017, while it fell nearly 1.4% in March. The Dow Jones Industrial Average (DIA) and the Nasdaq Composite (COMP-INDEX) returned nearly 1.3% and 2.2%, respectively, in April 2017.
Since the US elections in November 2016, the markets have seen a strong movement. The following factors drove market sentiment:
Article continues below advertisement
The slight improvement in April 2017 was mainly due to expectations for a tax restructure plan. Plus, markets (SPY) (QQQ) showed some positive movement after the first round of the France presidential election met expectations. Emmanuel Macron got 23.7% of the votes and Marine Le Pen got 21.7% of the votes. Read Inside the French Election: Will the First Round Winners Drive Sentiment? to learn more.
After the failure of President Donald Trump's efforts to replace the Affordable Care Act, the major indexes in the United States (VFINX) (IVV) fell in March 2017. The delays in policy reform and the establishment of new policies are worrying some investors. However, various global factors supported the movement of the S&P 500 Index in April 2017.
Corporate earnings
The improvement in corporate earnings in the first quarter of 2017 as compared to the fourth quarter of 2016 also drove market sentiment. Major technology (XLK) stocks such as Google (GOOGL) and Microsoft (MSFT) reported strong earnings growth in the first quarter of 2017, which also supported the index movement in April 2017.
In the next part of this series, we'll look at expectations for the S&P 500 Index in May 2017.