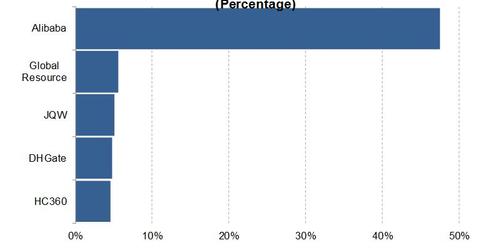 Is There Life for Alibaba outside e-Commerce?
By Neha Gupta

Updated
No Alibaba without China
Alibaba (BABA) generates the bulk of its revenue from e-commerce. China (FXI) (MCHI) is the largest source of its revenues and profits, with less than 10.0% of its revenue coming from outside its domestic market. Alibaba is the leader in China's e-commerce market, which explains why China is its most important market and why e-commerce has been its lifeline.
China's complex regulatory environment has limited the participation of foreign companies in the country's Internet and financial industries, but that has benefited Alibaba.
Article continues below advertisement
The landscape is shifting
The industry landscape is shifting, however. China's e-commerce industry is becoming increasingly more competitive, implying that Alibaba's growth opportunities are being limited by the competition. Not only is the competition using Alibaba's strategies to defeat Alibaba, but foreign players are also forging alliances to enable them to rapidly penetrate the Chinese market.
Alibaba is China's largest B2B (business-to-business) platform operator.
No protection in the outside world
Outside China, where growth opportunity is still huge, Alibaba has a steep hill to climb. First, it only has a limited international presence compared to rivals Amazon (AMZN) and eBay (EBAY). Second, the outside world is freer and exposes Alibaba to the kind of competition it's not used to in its home market, so it has to actively fight for space. All these factors suggest that it will be difficult for Alibaba to replicate its Chinese e-commerce success in the international market.
Then another question arises. Is there life for Alibaba beyond e-commerce? To be sure, Alibaba is funneling billions of dollars into efforts aimed at diversifying its revenue streams beyond e-commerce. It has invested in fields such as the cloud computing market and digital video, taking on Netflix (NFLX) and Alphabet's YouTube. But what are those businesses generating?
When Alibaba reports its fiscal 4Q17 results, we'll most likely be looking to see how fast it's growing its non-e-commerce revenues, because therein lies its hope for the future.