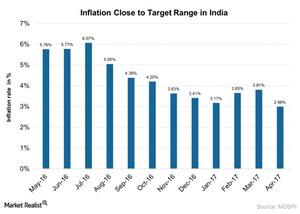 Is Inflation in India Approaching Its Target Range in 2017?
By Mary Sadler

Updated
Inflation in India
According to analysts, forecasts of a normal monsoon season in 2017 and record food grain production in 2016–2017 could keep the inflation rate at a moderate level this year. The inflation calculations this year should include a new data series that includes more items and shifting the base year from 2004–2005 to 2011–2012. The new data series is devised to help policymakers get a more accurate picture of output and price trends.
The CPI (consumer price index) is considered a primary gauge of measuring inflation by the Reserve Bank of India (or RBI). Let's look at the inflation trend in India over the last year in the chart below:
Article continues below advertisement
Inflation trend in India in 2017
Consumer prices in India (EPI) increased ~3.0% on a year-over-year basis in April 2017, compared to an ~3.8% rise in March—well below its market expectations. It is the lowest inflation rate since 2012, driven by a slowdown in food prices. The wholesale price index (or WPI) also fell sharply to ~3.9% in April 2017 from 5.3% in March 2017.
The Reserve Bank of India continues to monitor the inflation situation and is expected to initiate an interest rate cut after September 2017, considering the inflationary impact of the Goods and Services Tax (or GST). Any change in the repo rate should affect interest rate–sensitive sectors like financials (IBN) (HDB), automobiles (TTM), and the tech (WIT) (INFY) sector.
Inflation close to target rate
India has an inflation target of 4% for the next five years under its 2016 monetary policy framework. The central bank left the policy lending rate unchanged and hiked borrowing rates in the last policy review on April 7, 2017. 
The Reserve Bank of India lowered its policy rates by 175 basis points between January 2015–December 2016, as inflation was declining. Demonetization also exerted downward pressure on inflation after November 9, 2016.
However, a pickup in new currency in circulation is expected to revive consumer demand after a severe cash crunch in the last few months. Inflation is also expected to rise to 4.2% with the improved demand in the next few months, according to several analysts. Inflation within the target range is expected to support economic activity and thereby boost market performance in India (EPI) (WAINX).
For more information on Indian markets, please read Why Markets in India Are Surging in 2017.