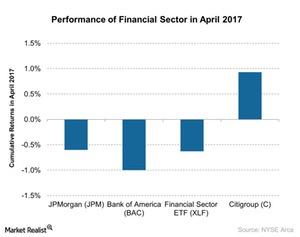 Will the Financial Sector See Strong Growth in May 2017?
Financial sector performance
Since the US elections in November 2016, the financial sector has been picking up. It contributed the most to the recent market rally after the US election (SPY). The possible repeal of the Dodd-Frank Wall Street Reform and Consumer Protection Act and the Fed's hawkish tone have been the major drivers of this movement.
When expectations for economic growth improve, the demand for lending activity also improves. The higher lending activity in the economy is a positive driver for financial sector stocks. After Donald Trump's victory, the expectations for economic growth rose.
However, in April, major financial stocks showed weaker performances. The weaker improvement in consumer sentiment mainly affected the performance of the financial sector. Consumer sentiment stood at 97 in April, while the market expected it to be at 98.
Article continues below advertisement
The Fed's decision
On the other hand, the Fed declared its recent monetary policy decision on March 15, 2017. The Fed increased the key interest rate by 25 basis points to the range of 0.75%–1%. If the Fed continues its gradual rate hike process in the near future, then it will likely boost financial companies' profit margins. The Fed will conduct its next meeting on May 2–3, 2017.
In the next part of this series, we'll analyze how the technology sector performed in April 2017 and what to expect in May.