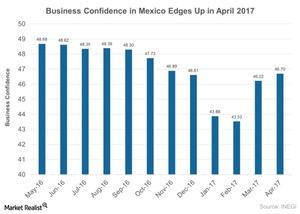 Business Confidence in Mexico Is Recovering
By Mary Sadler

Updated
Business confidence in Mexico in 2017
Consumer confidence in Mexico (EWW) came crashing down in the first couple of months of 2017 amid the uncertainty of US-Mexico relations and surging inflation. However, after Trump's relatively moderate stance on the NAFTA agreement, business confidence improved in Mexico (DBMX). Also, the conscious efforts by the Mexican administration to look beyond US trade boosted sentiment. Let's look at business confidence in Mexico over the last year in the below chart.
Article continues below advertisement
Improved business confidence
Business confidence in Mexico rose to 46.7 in April 2017 as compared to 46.2 in the previous month. It's at its highest value since November 2016. The manufacturers' assessment highlights the following:
an improved general economic situation, which stood at a reading of 42.2 as compared to 42 last month
improved investment sentiment, which stood at a reading of 34 as compared to 33.4 last month
The Monthly Survey of Business Opinion (or EMOE) measures the expectations of business executives regarding production, capacity utilization, employment, and inventories. The EMOE uses a scale of zero to 100 where levels above 50 indicate optimism and levels below 50 indicate pessimism.
Economic impact
Improved business confidence is expected to support manufacturing activity (CX) (SIM) to some extent. However, despite the relative improvement in business confidence, the Mexican economy still looks vulnerable to the uncertain US policy outlook. The US accounts for about 80% of Mexican exports and about 26% of its GDP as of 2015. Policy developments in the US are likely to impact the Mexican economy, as is evident by the sharp depreciation of the Mexican peso against the US dollar (USO) after the US election in November 2016. The peso (HEWW) depreciated by about 15% against the US dollar between Trump's election in November and his inauguration in January 2017.
In the next article, let's look at auto production in Mexico, which plays a crucial part in the country's economic growth.