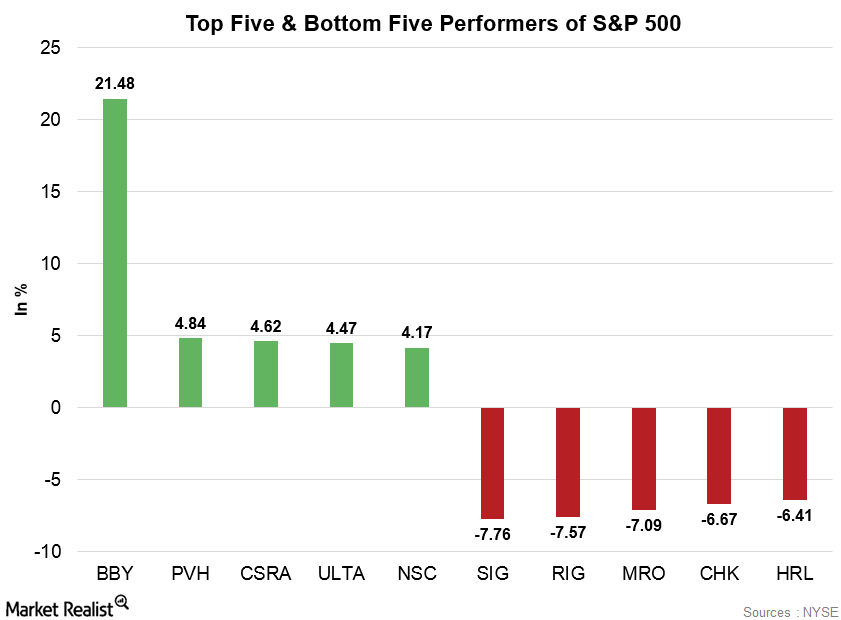 Best Buy Was the S&P 500's Top Gainer on May 25
Top gainers and losers
The top gainers in the S&P 500 on May 25 were:
Best Buy (BBY) rose 21.5%.
Phillips-Van Heusen (PVH) rose 4.8%.
CSRA (CSRA) rose 4.6%.
Ulta Salon Cosmetics & Fragrance (ULTA) rose 4.5%.
Norfolk Southern (NSC) rose 4.2%.
The top losers in the S&P 500 on May 25 were:
Article continues below advertisement
Best Buy rose
Best Buy rose to record high price levels on May 25. Despite prevailing weakness in the retail sector, Best Buy posted upbeat first quarter results.
According to management, first quarter sales in stores that have been active for more than a year rose 1.6%. Analysts expected sales to fall 1.5%—the company expected sales to fall 1.5%–2.5%. The unexpected rise in sales triggered a rally on Thursday. Best Buy's net income and revenue also beat analysts' expectations.
Net income and expected revenue
Best Buy's net income for the quarter ending in April fell to $188 million or $0.60—better than analysts' estimate of $0.40 per share. Best Buy's revenue rose 1% in the first quarter to $8.53 billion—the expected revenue was $8.28 billion. Most retail companies are struggling in the market amid competition from online retailers like Amazon (AMZN). Best Buy's online sales rose 23% and accounted for 13% of overall online sales in the US.
Best Buy's sales also gained support from healthy US unemployment data. The unemployment rate in the US was near a ten-year low in March. As a result, homeowners increased their spending, especially on electrical appliances. On May 25, Best Buy rose 21.5% and ended the day at $61.25. In the next part, we'll discuss how the US dollar and Treasury yields performed in the early hours on May 26.