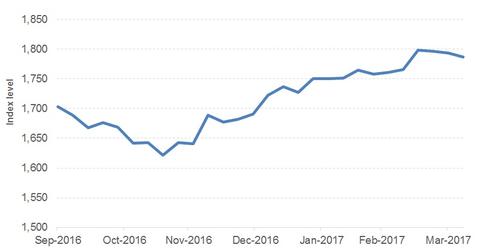 How Recent Developments Affect Different Asset Classes
By Ricky Cove

Updated
Equities remain resilient
Global growth is expected to drag itself into greener pastures supported by the improving global and US factory output and sentiment indicators. Demand is likely to pick up in the US and around the world, paving the way for further but contained appreciation in developed (EFA) (VEA) and emerging markets (IEMG).
Article continues below advertisement
Which sectors are to benefit the most? 
In the US (VOO) (IJH), financial services (XLF) (IYG), infrastructure (IGF), technology (QTEC) (VGT), and utilities (XLU) are likely to be the beneficiaries. The banking and financial sector could benefit from lower taxes, while infrastructure companies could benefit from fiscal spending by the government. Tech and utility companies could benefit from the overall increase in demand. Along with these sectors, the energy sector (XOP) (GUSH) could also be poised for appreciation if crude oil prices remain stable or above the $50 per barrel mark.
Will international markets follow US markets? 
Internationally, in the developed market space, election uncertainty in Europe (VGK), the repercussions of Brexit in Britain (EWU), and the unfruitful stimulus packages from Japan (EWJ) could weigh down on their respective indexes, but they might be supported by overall market demand and optimism in the days ahead. In the emerging market (EEM) space, we could witness further appreciation across asset classes, but the risk to this view would be the US interest rates rising sooner than expected. India (INDA) and China (FXI) are likely to remain the leaders in attracting investment but they might have strong competition from developed economies as the latter begin to emerge out of the doldrums that they were stuck in for almost a decade.