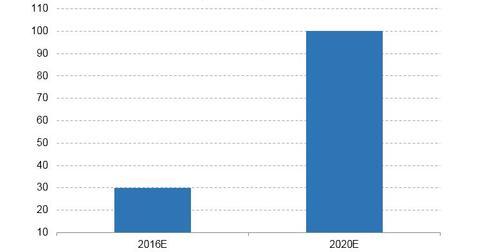 Will Amazon Ever Conquer India's E-Commerce Market?
By Neha Gupta

Updated
Indian push could be long and expensive
Amazon (AMZN) no doubt believes that India is shaping up to be a great place for its e-commerce business. It's already pumped billions of dollars into its Indian venture, and it expects to spend even more to build a stronger online retail operation in the country.
Citing a senior Indian government official, the Times of India reported in March 2017 that Amazon was among the foreign companies seeking to invest millions of dollars in the country's food supply industry. The report said that Amazon had come up with a plan to invest $500 million in the food business in the country, including food processing and the operation of physical food stores.
Germany's (EWG) Metro Cash & Carry is another international company that's been eyeing the Indian food market alongside Amazon, according to the report.
Article continues below advertisement
An enormous e-commerce opportunity
For Amazon, the Indian push could be long and expensive. Its rivals have grouped up to minimize its fortunes in the country. For example, shortly after word went out that Amazon was planning to invest $500 million in the food business in India, it emerged that two of Amazon's top competitors, Flipkart in India and eBay (EBAY) in the United States (SPY), had teamed up in an investment deal.
Flipkart raised $1.4 billion in a funding round backed by Microsoft (MSFT) and eBay, among others, according to Reuters. Reportedly, eBay has pumped $500 million into Flipkart, which it believes has a good chance of frustrating Amazon's push to conquer the Indian e-commerce market.
The e-commerce industry in India is projected to grow to $100.0 billion by 2020, compared to just $30.0 billion in 2016, according to research company IBEF.
Does Amazon's management see the light at the end of the tunnel?
As Amazon reports its 1Q17 results, investors will likely be keen to hear its management's comments on its progress in India for clues on what might lie ahead for the company in one of its prized emerging markets.