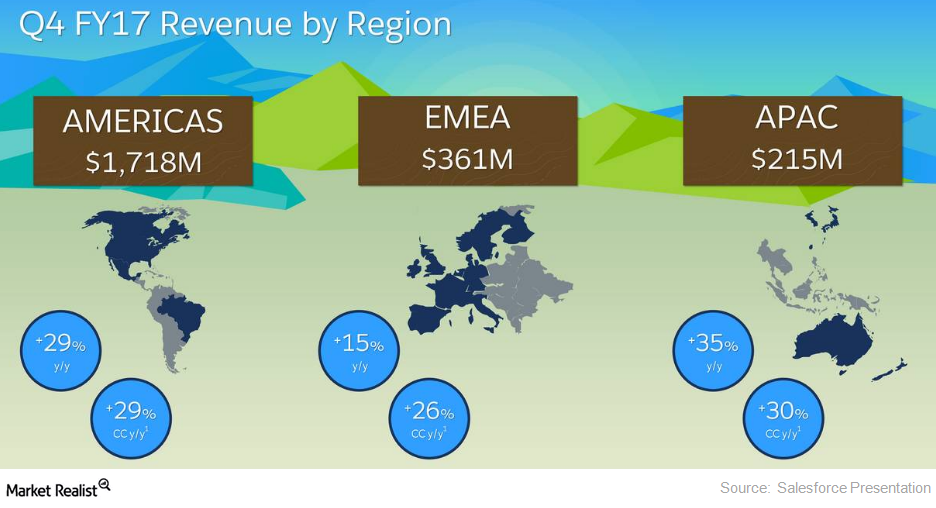 Why Salesforce's Focus on Japan Is Opportune
Companies focus on building hyperscale data centers
Earlier in this series, we discussed Salesforce (CRM) opening a data center in Japan (EWJ) to cater to its expanding customer base in the Asia-Pacific region. Amazon (AMZN), Microsoft (MSFT), IBM (IBM), Alphabet (GOOG), Salesforce, and other cloud providers are competing in adding new data center facilities.
According to Cisco Systems' (CSCO) Global Cloud Index, the global count of hyperscale data centers is expected to grow from 259 in 2015 to 485 by 2020, which would amount to 47% of all installed data center servers by 2020. This growth could comprise 83% and 86% of the public cloud server installed base and public cloud workloads, respectively, in 2020. This trend explains tech giants' billion-dollar investments towards data centers and IT (information technology) infrastructure.

Article continues below advertisement
The Asia-Pacific region continued to grow the most
In fiscal 4Q17, Salesforce's revenue grew in all geographies, as the above presentation shows. Salesforce derives the bulk of its revenue from the Americas. However, it is the Asia-Pacific (FAX) region that grew the most, growing 35%, or 30% in constant currency, in 4Q17. The Americas region posted ~$1.7 billion in revenue, Europe (EFA) posted ~$361 million, and the Asia-Pacific region posted ~$215 million. Salesforce's continued growth in the Asia-Pacific region indicates its success in and keenness on implementing its diversification plans.
President Donald Trump's proposed tax reductions are expected to bring in more than $2 trillion parked overseas by US companies. This move is likely to benefit Salesforce, which, unlike peers Microsoft, IBM, and Oracle (ORCL), generates a substantial portion of its revenue from the Americas.