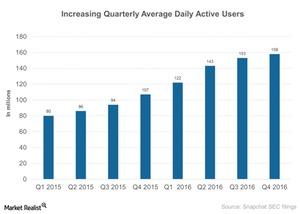 What Led to the Fall in Snapchat's Market Performance?
By Mary Sadler

Apr. 5 2017, Published 1:15 p.m. ET
Overview of Snapchat's IPO
Snapchat (SNAP) was the first major venture-backed technology IPO (initial public offering) in 2017. It sold ~200 million shares to raise ~$3.4 billion, making it the largest IPO after Alibaba Group Holding's IPO in 2014. 
The company's shares began trading at $24 each on March 2, 2017, after its initial batch of shares was priced at $17.
According to CFRA Research's Sam Stovall, the main reasons for IPOs failing are as follows:
a market that still isn't in the latter phase of the bull market, which usually provides impressive returns
trader mentality that's focused on short-term gains, including buying stocks and shorting them for some gains
Article continues below advertisement
Is Snapchat overvalued?
Snapchat's shares surged 44% on March 2, 2017, on the first day of its listing on the New York Stock Exchange. The stock continued its surge on the second day of trading to close at $27.09, posting a rise of 10.7%. However, the stock was trading at $22.35 on April 3, 2017, a fall of ~9% from its first trade.
Snapchat's market capitalization is currently valued at $26 billion, driven by its large user base, as we can see in the chart above. The company's daily active subscribers increased from 110 million in 4Q15 to more than 160 million in 4Q16.
Snapchat is currently in direct competition with Facebook (FB) and Twitter (TW) due to their similar customer bases. The biggest concern for Snapchat is customer engagement for an extended period of time compared to its competitors. Also, its revenue model faces competition with Facebook and Google (GOOG). 
Overvaluation was a concern with Snapchat's IPO, as no analysts had issued "buy" ratings on the stock. The First Trust US Equity Opportunities ETF (FPX) and the Renaissance IPO ETF (IPO) are currently providing access to Snapchat stock.
For more information on the technology sector's performance, you can read How Did the Technology Sector Perform in 2016?