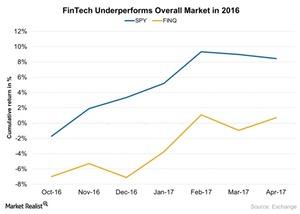 John Mack Weighs in on Financial Technology
By Mary Sadler

Updated
Financial technology sector
The financial technology industry (FINQ) (FINX) embodies a combination of financial services and communications technology and aims to reshape the financial sector landscape by reducing costs and improving the quality of service.
Article continues below advertisement
Performance in 2016
Financial technology has been gaining popularity lately and is expanding rapidly across sectors. In 1Q17, the PureFunds Solactive FinTech ETF (FINQ), however, underperformed the overall market with gains of about 1%. Notably, FINQ tracks the Solactive FinTech Index, which offers investors opportunities in the technological innovation across the financial sector.
The SPDR S&P 500 ETF (SPY), which tracks the most popular US index, the S&P 500 Index (SPX-INDEX), posted gains of ~8% in 1Q17. FINQ is relatively new, having just entered the market in August 2016, though it has built about $2.5 million in assets (as of September 2016).
FINQ holds about 31 stocks and has allocated a maximum weight of 3.9% to its holdings as of September 2016. Its top holdings include Blackline (BL), Xero Limited (XRO), Simcorp (SIM), and Ellie Mae (ELLI).
Mack's views on financial technology
Former Morgan Stanley head John Mack considers financial technology good investment option due to the growth in the sector, which posted growth of about 75% in 2015. Most recently, Mack put it this way: "Financial technology clearly is moving very quickly and is changing the way we invest, the way we save, the way we get our information and also where we get our advice on what we should be doing. So I do it because I love fintech but I love the financial markets even more."
Initially, the financial technology was mostly restricted to areas like payment processes. However, it has now spread into different areas of applications in the financial sector, including mobile banking, mobile trading on commodities exchanges, and digital wallets.
For more information on the technology sector's performance, check out Market Realist's series How the Tech Sector Could Drive the Market's Performance in 2017?