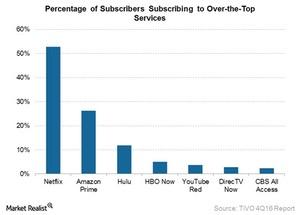 How Netflix Plans to Withstand the Rising Competition
By Shirley Pelts

Updated
Netflix facing rising competition
Netflix (NFLX) is facing rising competition from new entrants in the streaming services industry. In March 2017, Alphabet's (GOOG) YouTube announced that it would be launching its online television service, YouTube TV, later this year. The company plans to price the service at $35 per month.
Hulu is also set to introduce its online television service later this year. Among the pay-TV operators, Dish Network (DISH) is also revamping its Sling TV service by adding CBS's (CBS) Showtime and introducing new skinny bundles.
There have also been unconfirmed reports of Comcast (CMCSA) planning to introduce a nationwide streaming service, Xfinity Instant TV, with Verizon Communications (VZ) also planning to follow suit.
Telecommunication giant AT&T (T) has also ventured into the streaming services space with its DIRECTV Now service. However, this service has not been without technical glitches.
However, according to Netflix, its original content and popularity could help the company stand out from its competitors. The company intends to produce 1,000 hours of original programming in 2017.
Article continues below advertisement
Why the rise in streaming services?
According to a March 2017 report, a survey conducted by Leichtman Research Group among 1,211 households in the United States (SPY) indicated that ~64% of households subscribed to SVOD[1. subscription video on demand] services such as Netflix (NFLX). The survey indicated that there had been a shift in television viewing habits, with the majority of viewers streaming video content.
According to a TiVo report on subscriber trends for 4Q16 and as indicated in the above chart, 52.8% of users subscribe to Netflix, while 26.3% subscribe to Amazon (AMZN) Prime Video. These services are followed by Hulu and HBO Now, which account for about 11.8% and 5.0% of user subscriptions, respectively.
As Millennials increasingly move toward viewing content online, companies such as YouTube are trying to grab market share. Millennials find that they can save money by viewing content online than footing a cable bill that can range from $100–$150 per month.