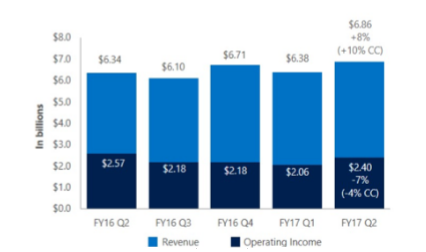 How Microsoft's Intelligent Cloud Segment Has Performed
By Anne Shields

Updated
Server products and cloud offerings boost revenue growth
So far in this series, we've discussed Office 365's contribution to Microsoft's success in the cloud. Let's see how Microsoft's (MSFT) Intelligent Cloud segment has been performing. This segment consists of Windows Server, SQL Server, System Center, MS Azure, mobile tracking devices, and data centers.
Microsoft's Intelligent Cloud grew 8% on a year-over-year (or YoY) basis to ~$6.9 billion in constant currency terms. Microsoft's server products and cloud services revenues grew 14% in constant currency terms. 
Article continues below advertisement
In fiscal 2Q17,[1. quarter ended December 31, 2016] Microsoft Azure's revenues rose 93%, and its computing usage more than doubled on a YoY basis. In constant currency terms, this growth reached 95%. In fiscal 2Q17, Office 365's commercial revenues rose 47%, and the number of its consumer subscribers grew to 24.9 million.
Increased focus on hybrid cloud
Through its cloud computing platform, Azure, Microsoft has a strong foothold in the hybrid cloud. Its foothold could further gain prominence with Azure Stack, its private/hybrid cloud offering that Microsoft plans to launch later this year.
The hybrid cloud is expected to be the most commonly used service in collaboration with the public cloud. This trend bodes well for Microsoft, as Azure grew the fastest among its peers—Amazon's (AMZN) AWS, Google (GOOG) Cloud, IBM (IBM), and Oracle (ORCL)—in terms of public cloud adoption.
Among enterprises, Azure's adoption surged from 26% in 2016 to 43% in 2017, and AWS saw its adoption increase from 56% in 2016 to 59% in 2017, as noted in the RightScale 2017 State of the Cloud Report. Overall, Azure's adoption grew from 20% in 2016 to 34% in 2017.