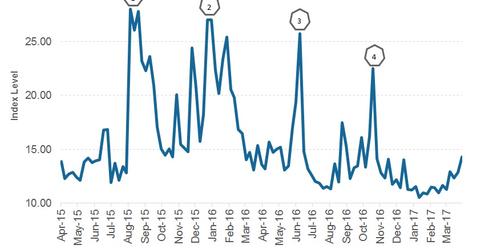 Global Market Uncertainty, Resurrected
By Ricky Cove

Updated
Markets questioning Trump trade policies
Risk aversion is on the rise again as investors begin to question President Trump's trade policies. Markets have been seeing changes in asset allocations, with safe-haven assets coming back in demand in recent weeks. Most recently, the US ten-year (IEF) yield closed at 2.23% before the Easter weekend—the lowest level since the November election.
Any drop in the US Treasury yield in the current scenario means that investors are paying a higher price to own safer assets. A similar trend can be witnessed in the other safe-haven assets as well. Gold (MUX) closed near the $1,290 mark, as compared to $1,123 in December, and the Japanese yen closed at 108.65, as compared to 118.50 in December.
Meanwhile, volatility driven by uncertainty is on the rise again. In this series, we'll revisit a range of uncertainties that are expected to have an impact on markets in the near term.
Article continues below advertisement
Is there a measure for this uncertainty?
While markets have evolved, quantifying unknowns like risk is still a huge task. The CBOE (Chicago Board Options Exchange) has an index with the ticker VIX (VXX) that shows the market's anticipation of risk for the next 30 days. The index is constructed using the implied volatilities of a range S&P 500 Index (SPY) options.
VIX (VIXY) shows sudden spikes when there's a rise in market uncertainty. Below are a few recent factors that pushed this risk-o-meter higher:
the August 24, 2015, flash crash, after concerns about Chinese growth plagued markets across the globe
the increase in volatility before the first rate hike from the FOMC (Federal Open Market Committee) in December 2015
the Brexit referendum and subsequent volatility in June 2016
the US election run up in November 2016, when the index fell 28% on the November 9
In the next part of this series, we'll take a closer look at geopolitical risks.