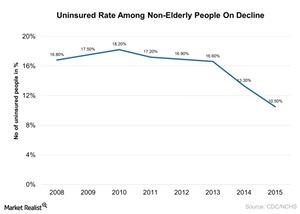 Can Auto-Enrollment in Obamacare Outdo the Individual Mandate?
By Mary Sadler

Aug. 18 2020, Updated 6:27 a.m. ET
Auto-enrollment in the ACA
The individual mandate of the ACA (Affordable Care Act), also known as Obamacare, went into effect at the beginning of January 2014 and has continued every year since. But the ACA has been despised by many groups in the US—particularly by conservatives—due to the requirement that individuals buy health insurance, which comes with the risk of a penalty.
Auto-enrollment is now being considered as an alternative to the individual mandate—something that would reduce the current penalty to $0. According to Obamacare architect Dr. Ezekiel Emanuel, auto-enrollment will likely ensure that more people get enrolled by using their tax subsidy or tax credit for health insurance.
Article continues below advertisement
According to Dr. Ezekiel Emanuel, the biggest challenge for any healthcare reform act is that, in order to be successful, you have to get the maximum number of people under its purview. The auto-enrollment under the Obamacare is expected to automatically enroll citizens directly into coverage, thus providing a higher number of insured people.
Notably, the rate of uninsured persons in the US began to drop after the ACA came into effect in 2010 and as the economy began to improve after the financial crisis of 2008. Then with the implementation of the major ACA provisions in 2014, the uninsured rate dropped significantly and continued to fall in 2015. The nonelderly uninsured rate fell in 2015 by 10.5%—the lowest rate in a decade. According to Emanuel, the auto-enrollment provision is now expected to reduce the uninsured rate even further, after it's enforced under the act.
Hospitals stand to win from failed attempts to repeal Obamacare
With an increasing number of people under insurance coverage, hospital and drugstore stocks are expected to benefit, because a higher number of insured individuals would mean a larger customer base for the drugstores and hospitals. Hospital stocks are also expected to benefit from the Trump administration's failure to repeal Obamacare, given the pressure that uninsured individuals tend to put on hospitals' margins.
Notably, the Health Care Select Sector SPDR Fund (XLV) and the Vanguard Health Care ETF (VHT) have already gained ~8% and ~9%, respectively, in 1Q17. Major hospital stocks to watch include Tenet Healthcare (THC), HCA Holdings (HCA), and Universal Health Services (UHS).
For more information on the US healthcare sector's performance, check out Market Realist's "Could Repeal of Obamacare Boost the Healthcare Sector?"