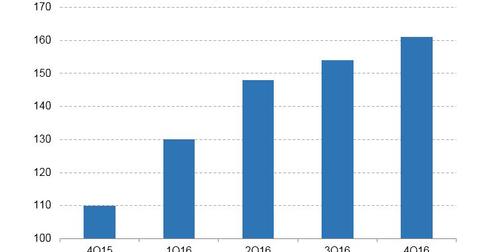 Are Millennials Investing in Snap?
By Ruchi Gupta

Updated
Investors created from subscribers
Most of the more than 160.0 million daily Snapchat users are Millennials, according to company documents. But how do these users view Snap (SNAP), the parent company of Snapchat, as a possible investment? Do they want to have a piece of the company whose product they use every day?
The above graph shows how Snapchat's user base has expanded over the past few quarters.
Article continues below advertisement
Here's what the data show
According to the Wall Street Journal, trading volumes on Robinhood, a brokerage app (application), increased 50.0% on March 2, 2017. That was Snap's first day of public trading. The data further showed that the median age of people buying Snap shares on the app that day was 26 years.
According to USA Today, another survey of 6,000 Robinhood app users ahead of Snap's IPO (initial public offering) revealed that 35.0% of the respondents planned to buy the stock. Another 35.0% said buying the stock was on their minds.
Millennials have an appetite for Snap stock
At StockTwits, a platform for exchanging trading ideas, 60.0% of exchanges about Snap came from users between the ages of 18 and 34 years, according to a Wall Street Journal report. According to Benzinga, StockPile, an online brokerage platform that offers shares and gift cards and is popular among Millennials, registered its record single day trading, thanks to the Snap IPO.
Why getting users on board is important
According to Bain, people have a tendency to stick with or share products from companies they own. Snap would probably benefit from getting its legion of users investing in its stock. Those investors could end up spending more time on the app and recommending it to more users. That could lead to more user engagement, which in turn would draw more advertisers.
Snap is primarily funded by online advertising budgets, putting it in competition with Twitter (TWTR), Yelp (YELP), Facebook (FB), and Alphabet's (GOOGL) Google.