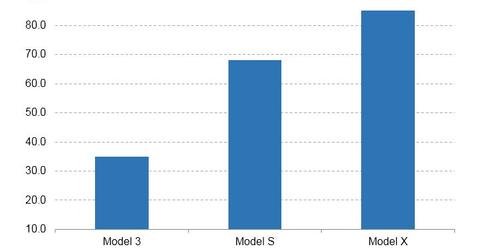 A Look at Tesla's Roadmap following Its Launch of the Model 3
By Ruchi Gupta

Updated
Semi-truck coming soon
The Model 3, the modestly priced electric vehicle that Tesla (TSLA) is set to bring to market later this year, will be closely followed by the release of an electric semi-truck. 
Elon Musk, the CEO of Tesla, recently disclosed plans to unveil the semi in September 2017, only a few months after the final inauguration of the Model 3. Tesla is also planning to launch an electric pickup truck in the next 18–24 months.
Article continues below advertisement
The company's current portfolio of electric vehicles comprises two models: the Model S and the Model X. It recently discontinued the base Model S, which is powered by a 60-kWh (kilowatt per hour) battery and has a maximum range of 210 miles on a single charge. As if to compensate for the discontinuation, Tesla has trimmed the price of the 75-kWh variant nearest to the discontinued one by $5,000, making it only $1,500 more expensive than the 60-kWh variant.
The price adjustment could be part of the company's preparation for the launch of the Model 3, which Tesla is aiming at the masses, a market also served by Toyota Motor (TM) and General Motors (GM).
Ramping up vehicle production
Tesla has been production-constrained for years, and it's hoping to kick this problem when it automates its factory processes and its Gigafactory in Nevada starts producing batteries. The company is eyeing production of 500,000 vehicles annually starting in 2018. It produced fewer than 80,000 vehicles in 2016.