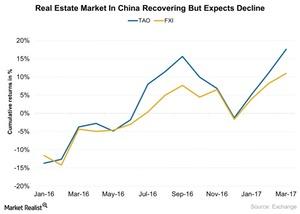 Will China's Real Estate Sector Bottom Out in 2017?
By Mary Sadler

Nov. 20 2020, Updated 12:16 p.m. ET
China's real estate sector
The construction and real estate sectors account for about 30.0% of China's GDP. Since the financial crisis of 2008, China's real estate sector has been growing rapidly with increased investment by the government. In 2016, property prices in China rose about 30.0% due to increased activity in the real estate space. As a result, the government took steps to control rising prices, including restrictions on property purchases and an increase in interest rates.
Let's look now at China's real estate performance compared to its broad market, as depicted in the graph below.
Article continues below advertisement
Real estate sector performance in 2016
As you can see in the above graph, the Guggenheim China Real Estate ETF (TAO) and the iShares China Large-Cap (FXI) both fell about 2.0% in 2016. However, since the beginning of 2017, FXI has risen about 13.0%, and TAO has risen 19.0%. Subdued performance in 2016 was mainly due to the efforts of Chinese officials to control soaring real estate prices.
The real estate sector is expected to continue its weak performance in 2017, mainly due to conscious efforts by the government to control rising property prices. Expectations of an interest rate hike are also likely to impact investor sentiment in 2017. The rise in interest rates affects the real estate sector due to its business dynamics.
Why is China's real estate rising in 2017?
The Guggenheim China Real Estate ETF (TAO) rose ~7.0% in February 2017. It holds about 68 stocks as of March 20, 2017. About 98.0% of those stocks are Hong Kong stocks. TAO tracks the AlphaShares China Real Estate Index, which is rising since Chinese companies are increasing their overseas investments. According to global real estate group JLL, China's overseas investment in real estate was about $33.0 billion in 2016, a 53.0% rise from 2015.
You can get access to construction and infrastructure industries in China through ETFs such as the EGS INDXX China Infrastructure ETF (CHXX) and the Global X China Materials ETF (CHIM). China's real estate companies that trade in the United States include Home Inns & Hotels Management (HMIN), Xinyuan Real Estate (XIN), China Housing & Land Development (CHLN), and E-House China Holdings (EJ).
Next, let's take a look at the devaluation of the yuan and its impact on China's stock market performance.