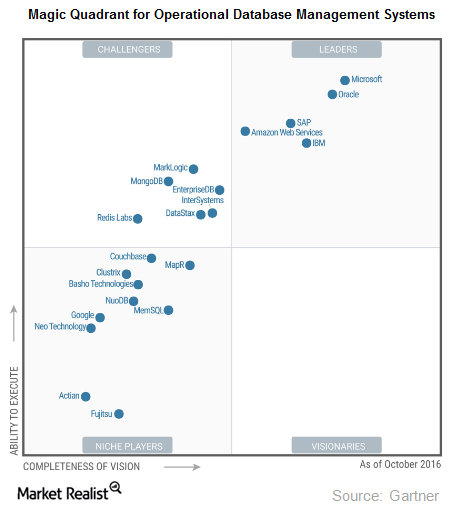 Why Oracle's Lead in the Database Space Is Being Threatened
Increased competition in the DBMS space
DBMS (Database Management Systems) is a concentrated space wherein the top three players—Oracle, IBM, and Microsoft—collectively held 89% of market share in 2015, according to Gartner. However, over the past five years, these three players have all lost market share. In 2011, they collectively held 91.4% of market share, and this value has now fallen to 89%.
Since 2011, Oracle has fallen 1.5 points, and it now has a market share of 41.6%. However, it continues to lead in the DBMS space. Microsoft has risen 0.8 points and has taken second place with its market share of 19.4%. IBM has fallen 5.6 points and holds a 16.5% market share.
Oracle, Microsoft, and Google have launched new database products and features to enhance not only their competitive edges but also their appeals to the increasing number of businesses and developers transitioning to the cloud space.
Article continues below advertisement
SAP grew the most in the DBMS space
Among all DBMS vendors, Germany-based (EWG) SAP AG (SAP) enjoyed the strongest growth in 2015, primarily on the back of SAP's HANA, according to Gartner. SAP's HANA is an in-memory computing appliance. The company's cloud strategy revolves around its new flagship ERP (enterprise resource planning) platform and its SAP Business Suite 4 SAP HANA.
Later in the series, we'll discuss what caused leading players in the cloud space to lose market share and how Amazon plans to benefit.