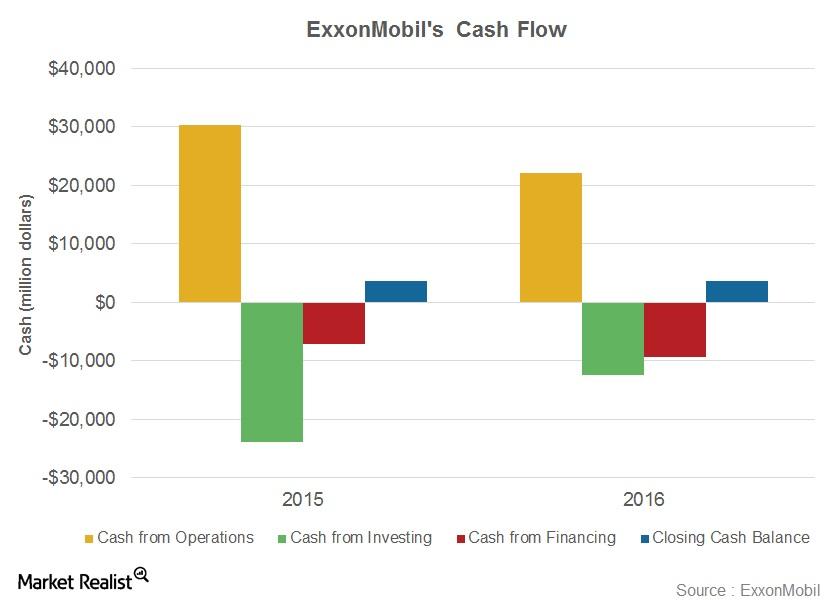 What a Cash Flow Analysis of ExxonMobil Reveals
By Maitali Ramkumar

Nov. 20 2020, Updated 3:48 p.m. ET
ExxonMobil's cash inflows
Earlier, we analyzed ExxonMobil's (XOM) leverage position. In this article, we'll examine XOM's cash inflows followed by its outflows. ExxonMobil's cash balance in 2016 stood at $3.7 billion, falling marginally by 1% compared to 2015.
ExxonMobil's cash from operations fell 27% over 2015 to $22 billion in 2016, mainly due to lower upstream earnings. The situation was similar for XOM's peers Chevron (CVX), Total SA (TOT), Petrobras (PBR), and BP (BP), who also witnessed steep falls in their upstream earnings in 2016.
If you're looking for exposure to large US companies, you can consider the SPDR Dow Jones Industrial Average ETF (DIA). The ETF has ~7% combined exposure to integrated energy majors XOM and CVX.
As we discussed in the previous article, XOM's debt has been rising. In 2016, XOM's cash flows from financing fell as the company raised fresh debt due to a $12 billion bond issuance in 1Q16. For more information, read ExxonMobil Raises $12 Billion: A Must-Read Company Update.
Article continues below advertisement
ExxonMobil's cash outflows
XOM's cash outflows have mainly been on account of its capital expenditure (capex), dividends, and share repurchases.
In 2016, XOM's cash outflow due to additions to property, plant, and equipment stood at $16 billion, compared to $26.5 billion in 2015. Moving on to shareholder returns, XOM has consistently paid dividends and repurchased shares. In 2016, ExxonMobil's cash outflows due to dividends and its acquisition of common stock stood at $12.5 billion and $1 billion, respectively.
What does a cash flow analysis of XOM reveal?
Considering its capex, dividend, and share repurchases, XOM's cumulative cash outflows amounted to $29.5 billion in 2016. To fund the gap between its cash flows from operations and its cumulative outflows, the company had to resort to debt and divestment proceeds.
For how long can this strategy continue? ExxonMobil is likely to see an alteration in its cash flow plan on an improving oil price environment. Oil prices are spiking due to the efforts of oil producers to reduce the global supply glut. For more information, read Crude Oil Prices Hit a 19-Month High.
With spiking oil prices and major projects coming online, higher production in XOM's robust upstream portfolio and increased volumes in its expanding downstream portfolio will likely result in enhanced revenues and earnings for the company, leading to better cash flows from operations.
Going forward, oil prices will likely be key to ExxonMobil's liquidity position. For more information about the direction of oil prices, read What to Expect from Crude Oil Prices in March 2017.
For information about ExxonMobil's latest market performance, read Has ExxonMobil Found Solid Ground?