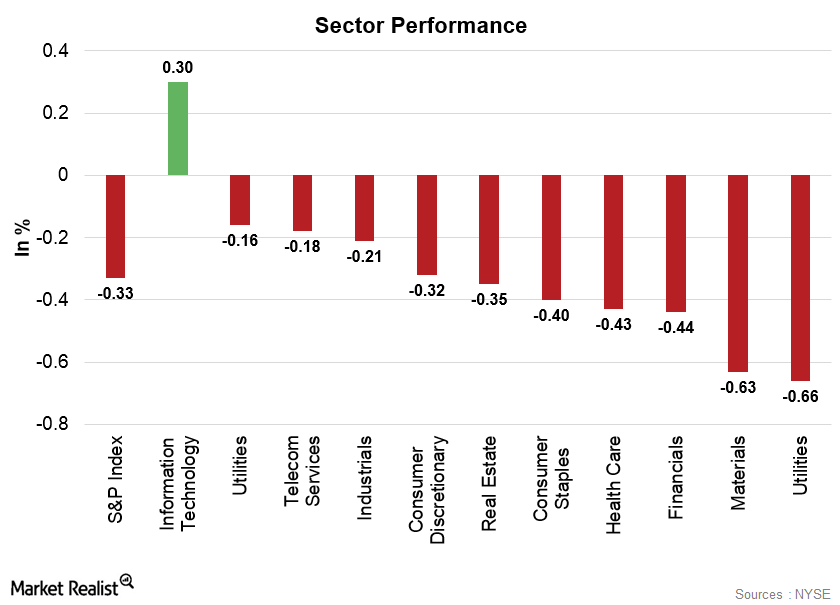 S&P 500, NASDAQ, and Dow Started the Week on a Weaker Note
By Val Kensington

Dec. 4 2020, Updated 10:52 a.m. ET
S&P 500
After gaining for six consecutive trading days, the S&P 500 pulled back and started the week on a lighter tone. The sentiment was mixed to lower on Monday amid economic data, interest rate hike expectations, and geopolitical concerns.
Article continues below advertisement
Factors the drove the market
The risk appetite in the market was low on March 6 due to geopolitical concerns like President Trump's comments about President Obama and missile tests in North Korea. On Monday, President Trump accused President Obama of wiretapping him in October 2016 during the election campaign. Kevin Lewis, President Obama's spokesperson, refuted the accusations. Reports in Pyongyang stated that the North Korea practiced launching missiles to attack US military bases in Japan. On March 6, North Korea launched four missiles as part of its missile test.
On the other hand, expectations of an interest rate hike by the Fed in its March 14–15 meeting were high on Monday. According to US factory order data by the United States Census Bureau, US factory orders rose 1.2% in January. On Monday, Endo International (ENDP), Kohl's (KSS), and CSRA (CSRA) were the top losers of the S&P 500.
Volatility Index
The S&P 500 started March 6 on a weaker note and maintained the weakness throughout the day. The S&P 500 VIX Index (CBOE Volatility Index) measures uncertainty in the market. On March 6, it rose 2.6% to 11.24. It's measured on a scale of 1–100 with 20 as the historical average. It's also called the "fear index." Generally, it moves opposite to stocks' movements—it falls when the S&P 500 rises.
After a brief recovery on Friday, the NASDAQ Composite Index and Dow Jones Industrial Average lost strength and fell on Monday. The NASDAQ Composite Index fell 0.37% on March 6 and closed the day at 5,849.17. The Dow Jones Industrial Average broke 21,000 and closed below it. It closed at 20,954.34—a fall of 0.24% or 51.37 points. The SPDR S&P 500 ETF (SPY) fell 0.3% on March 6.