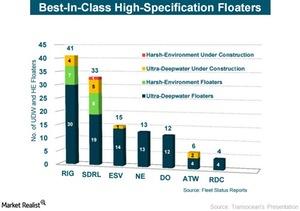 Offshore Drillers' Views on the Floater and Jack-Up Market
By Sue Goodridge

Apr. 3 2017, Updated 8:07 a.m. ET
Rig types
Offshore (OIH) exploration and development wells are drilled with the use of rigs. Rigs come in various sizes and with various characteristics.
Jack-ups are normally used for drilling in shallow waters. Floaters, which are used in deep water and ultra-deepwater drilling, include semisubmersibles and drillships.
Article continues below advertisement
Transocean pure floater company
Offshore driller's views
Offshore drillers have different views on the floater and jack-up market. Seadrill expects the utilization rate for its floaters to worsen before it gets better, while it expects jack-up utilization to be challenged in the foreseeable future. A pricing recovery isn't expected.
According to Atwood Oceanics (ATW), demand in the floater market has fallen further, and most of this fall has been in the ultra-deepwater segment. On the other hand, there's been an uptick in demand for jack-ups. Higher oil price expectations have translated into higher demand for jack-ups, especially in the Middle East.
History tells us that lower capital commitment activities such as land drilling and shallow water drilling recover faster than larger capital-intensive activities such as deepwater drilling. 
Oil prices improved in 4Q16, and OPEC's (Organization of the Petroleum Exporting Countries) production cuts supported oil prices. As a result, tendering activity has been pushed to late 2017, especially for jack-up rigs. The floating market seems to be pushing off in 2018.