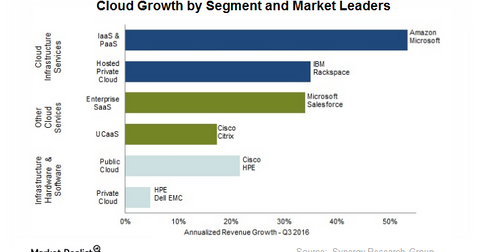 Microsoft Aims to Succeed in IBM-Dominated Hybrid Cloud Space
By Anne Shields

Updated
Increased competition in the hybrid cloud space
Earlier in this series, we discussed the factors leading to the growing adoption of the hybrid cloud. Microsoft (MSFT), known for its aggressive efforts to grow in the cloud space, doesn't want to be left behind. However, Microsoft has tough competition to face in this space, where IBM (IBM) has been a long-time leader. 
In late 2016, Amazon (AMZN) and VMware (VMW) announced a strategic partnership, which ramped up the competition in the hybrid cloud space.

Article continues below advertisement
Amazon's dominance didn't deter Microsoft and IBM from gaining market share in the cloud
Amazon has the funds, scale, and presence to compete in the hybrid cloud space. Although Microsoft and IBM expect to face pressure from Amazon, their strong position in the cloud space can't be ignored. Later in this series, we'll discuss how the growing prominence of Microsoft's Azure led to the downgrading of Amazon stock.
Although IBM, Microsoft, and Google (GOOG) can't match Amazon's share and scale in the cloud space, these three players saw a combined 5% increase in market share in 2016 compared to 2015. These three tech firms increased their market share in the public cloud due to smaller companies losing share to larger players.
The hybrid cloud holds special importance for IBM, as it has played a prominent role in the rising revenues of its Strategic Imperatives segment. IBM has made several acquisitions and partnerships to maintain and enhance its lead in the hybrid cloud space. Amazon and IBM both pose a threat to Microsoft's goals in the hybrid cloud.