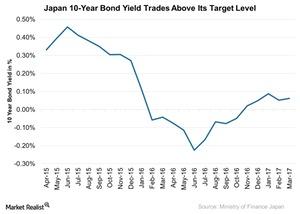 Japan's Deflation Problem despite a Low Interest Rate Environment
By Mary Sadler

Mar. 6 2017, Updated 7:37 a.m. ET
Monetary policy in Japan
In the last two decades, Japan's central bank has revisited its economic policies in an effort to revive its sagging economy (EWJ) (DXJ). The country's central bank had been using the unconventional strategy of implementing negative interest rates to revive the economy. Traditionally, central banks use interest rates to control inflation and spending.
Banks reduce interest rates to increase the money supply, which increases demand from consumers. Japan has been trying to do exactly that via the lower interest rate environment, which has slowly moved into the negative interest rate zone. Let's look at the movement of interest rates in Japan over the last three years.
As we can see in the above chart, Japanese government bonds spiked ~19% in February above the target rate set by the central bank of Japan. The rise in yields has helped the yen (FXY) appreciate against the dollar (UUP).
The ten-year Japanese bond yield eased as the central bank stepped into the market with its special operation to buy bonds at higher prices, which pulled yields down.
Article continues below advertisement
The impact of negative interest rates
Low inflation results in a demand curve that slopes downward to the left, which indicates falling prices that are associated with weak economic growth. The demand curve indicates the demand at various price levels.
Japan's central bank aims to lower interest rates, which allows consumers to increase their spending and to increase general price levels. Despite these efforts, consumer demand is still low.
In 2014, Japan's economy showed signs of improvement as consumer price levels increased. However, consumer prices dropped again in 2016, pushing interests rates into negative territory.
The economic impact of monetary policy
Currently, Japan holds a huge number of Japanese bonds (DFJ) that are trading at negative yields or lower yields. We can expect the Bank of Japan to continue its monetary easing policy as the stronger yen and sluggish economic growth could keep inflation below its target. At such low yields, the Japanese market doesn't provide an attractive yield (JGBT) opportunity, especially in comparison to its counterpart in the US (IEF).
In our next article, we'll look at the persistent deflationary environment and its impact on Japan's economic growth.