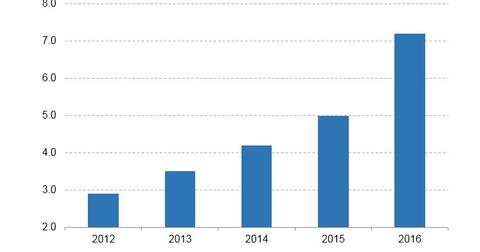 How Amazon Can Run a More Profitable Retail Business
By Ruchi Gupta

Updated
Making retail business more efficient
With the cloud business AWS (Amazon Web Services) disappointing in the most recent quarter, investors are looking to Amazon's (AMZN) retail business for inspiration. Amazon is looking to make its largest operation more profitable, which would allow the company to generate more free cash flow to reinvest in growth and distribute to shareholders.
The chart below shows Amazon's annual net shipping costs.
Article continues below advertisement
Shipping costs soared in 2016
An analysis of Amazon's fiscal 2016 financial data offers a hint on how the company could enhance the profitability of its retail unit. One of Amazon's major cost drivers is shipping expenses. Net shipping costs increased 43% to $7.2 billion in 2016, up from $5.0 billion in 2015 and $4.2 billion in 2014.
Prime-related income surges
The solution to Amazon's soaring shipping expenses lies in increasing the uptake of its Prime program, which costs $100 per year, or $11 per month. Prime offers free two-day delivery service on select items.
Although Amazon doesn't reveal Prime membership or sales numbers, the company recently shared data that offered a glimpse of how much money it makes from its Prime program and related services. Amazon's Retail Subscription business comprises its Prime program, e-book, digital video, and digital music subscriptions. 
Amazon reported that this segment produced revenues of $6.4 billion in 2016. The figure increased from $4.5 billion in 2015 and $2.8 billion in 2014.
Squeezing more profits from retail revenues
The figures imply that if retail subscription revenues grew rapidly, the segment alone could pay off Amazon's shipping costs. As a result, improving margins in other retail operations could go straight to boosting its bottom line.
A more profitable retail business would not only calm wary investors, but it could also produce more cash. This would allow Amazon to invest in more growth and stay ahead of retail competitors such as Walmart (WMT) and Sears (SHLD), as well as cloud rivals such as Microsoft (MSFT) and Oracle (ORCL).
In the next article, we'll turn our attention to Alibaba's expansion.