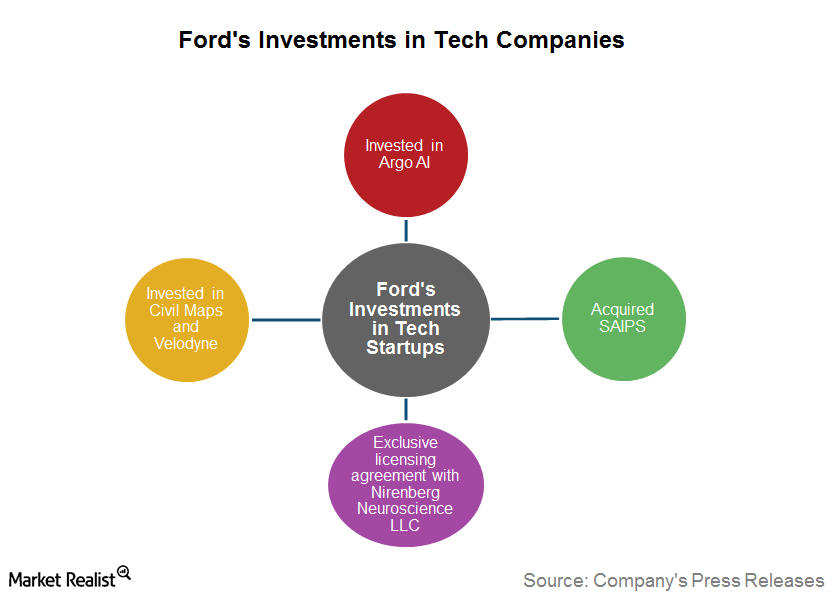 Ford's Investment in Argo AI: Why It's Important
By Jitendra Parashar

Apr. 3 2017, Updated 7:36 a.m. ET
Ford's production goal
Previously, we looked at why Ford (F) could be the first automaker (IYK) to start mass-producing fully autonomous vehicles for ride-sharing services. In 2017, the company plans to speed up its autonomous vehicle testing program by tripling the size of its test vehicle fleet. As a result, Ford should come closer to its ambitious plan of autonomous vehicle mass-production by 2021. Now, let's take a look at some recent updates on how Ford's focusing on its autonomous vehicle development plan.
Article continues below advertisement
Investment in Argo AI
On February 10, 2017, Ford announced a $1 billion investment in Argo AI—a tech startup. Argo AI operates in the field of artificial intelligence. It was founded by former employees of tech giants including Google (GOOGL) (GOOG) and Uber.
Ford's investment in Argo AI shows its efforts to speed up its autonomous vehicle development program. Note that artificial intelligence is an essential part of high-level vehicle automation. It allows machines to learn in real time without seeking human input.
Other collaborations
Ford's investment in Argo AI wasn't the first time that Ford collaborated with a tech startup. To speed up the development of autonomous vehicles, Ford acquired SAIPS in August 2016. SAIPS is an Israel-based company that works in the field of computer vision and machine learning.
Ford invested in two other US tech startups—Civil Maps and Velodyne. The companies work in the field of high-resolution 3D mapping and LiDAR sensors (light detection and ranging), respectively. Last year, Ford also collaborated with New York City-based Nirenberg Neuroscience. It's working in the field of machine vision and artificial intelligence.
The investments and collaborations with tech startups provide Ford with an edge in the vehicle automation space over its peers including General Motors (GM), Fiat Chrysler (FCAU), and Toyota (TM).
In the next part, we'll find out why Tesla's fully autonomous vehicles could stand out going forward.