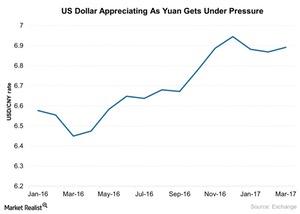 Is Devaluation of the Yuan Affecting China's Market Performance?
By Mary Sadler

Nov. 20 2020, Updated 1:35 p.m. ET
Yuan devaluation
The Chinese yuan (CYB) (CNY) fell more than 6.0% in 2016 and is expected to continue its downward trend in 2017. The Fed's recent interest rate hike in the United States will most likely encourage the movement of capital from China to the United States due to the trend of capital to move from a low interest rate environment to a high interest rate environment. China's government is expected to intervene and curb the flow of capital from the country.
Let's look now at the movement of the US dollar and the Chinese yuan in the last few years, which is depicted in the graph below.
Article continues below advertisement
Yuan depreciating against the US dollar
As you can see in the above graph, a stronger US dollar is expected to keep the yuan under pressure. Investors can probably expect a massive outflow of capital from China in 2017. The Bank of China is expected to take steps to control the yuan devaluation against the US dollar, including the following:
use of China's foreign reserve to support its currency by selling US Treasuries
tighter regulations to control capital outflows
As of January 2016, China's foreign exchange reserves fell below the closely watched mark of $3.0 trillion.
Impact on the stock market
Many companies' earnings depend on the strength of its domestic currency. The depreciation of the yuan is expected to positively impact Chinese exporters. However, some resource-dependent sectors such as energy and capital goods can be affected due to the weakness of the yuan. Weaker growth and reduced demand from external markets impacted performance in 2016.
However, 2017 is showing a slight improvement over 2016 since China's official factory measure, the manufacturing PMI (Purchasing Managers' Index), continued to rise in February 2017. Corporate profits are also rising, and the consumer price index has risen to a new five-year high.
To insulate from the yuan depreciation, you can consider currency-hedged ETFs such as the MSCI China A International Hedged ETF (CNHX) and the Deutsche X-trackers CSI 300 China A Hedged ETF (ASHX). The top holdings of these ETFs include Ping An Insurance (PNGAY), China Merchants Bank, Industrial Bank, and Shanghai Pudong Development Bank.
In the next part of this series, we'll look at the recent rise in manufacturing activity and its impact on the Chinese stock market.