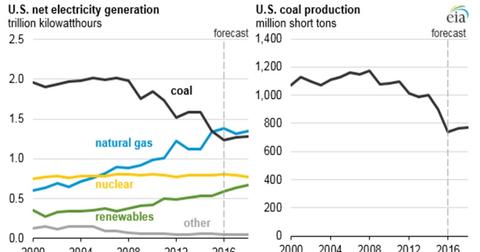 Clean Power Plan Could Be Scrapped: The Impact on Utilities
By Vineet Kulkarni

Updated
Changing economics of US power generation
Many utilities (XLU) such as American Electric Power (AEP), Southern Company (SO), and Duke Energy (DUK) have a coal-dominated generation mix. But lately, they've been shifting to natural gas and renewables generation. The switch has been influenced mainly by changing power generation economics driven by low natural gas prices, not just because of regulations.
Carbon emissions have fallen substantially in the last ten years. As reported by the EIA (U.S. Energy Information Administration), carbon emissions from the power sector have fallen 21.0% since 2005. That's equal to achieving 60.0% of the Clean Power Plan's 2030 emission target.
Article continues below advertisement
The EIA projects that natural gas (UNG) prices and climate policies will likely drive the US power generation mix going forward. It also said that increasing gas prices may soon change the power generation economics again. With higher gas prices, power generators (DUK) (SO) switch to coal as a more cost-effective fuel source.
Utilities and the Clean Power Plan
President Donald Trump's expected executive order to rescind the Clean Power Plan will most likely bring a sigh of relief from some utilities with coal-dominated (KOL) generation mixes since they won't have to alter their generation mixes within any deadlines.
However, in the past few years, some US utilities (DUK) (NEE) have been actively investing in renewable energy (TAN) sources and low-emitting power generation capacities. If the Clean Power Plan is rolled back, it raises questions about how useful it was for these companies to spend billions of dollars on these alternative sources.