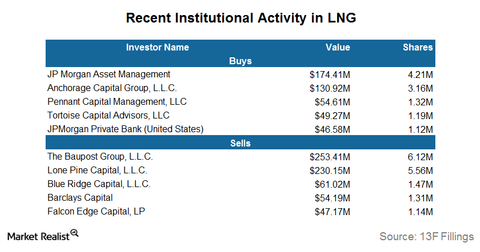 Carl Icahn Maintains Position in Cheniere
By Kurt Gallon

Updated
Number of holders
In this article, we'll analyze the institutional ownership of Cheniere Energy (LNG). The number of holders in Cheniere Energy had decreased to 506 as of March 30, 2017, compared with 516 in mid-2016. The number of outstanding shares held fell 5.1%.
Article continues below advertisement
Recent institutional activity in Cheniere Energy
The recent institutional activity in Cheniere Energy shows 11.0 million shares bought and 15.6 million shares sold. These numbers indicate a mostly bearish sentiment for the stock. According to the latest filing on December 31, 2016, J.P. Morgan Asset Management and Anchorage Capital Group are the biggest buyers, with 4.2 million and 3.2 million shares bought, respectively. At the same time, The Baupost Group and Lone Pine Capital are the largest sellers, with 6.1 million and 5.6 million shares sold.
Why institutional investors are bearish on Cheniere Energy
Institutional investors' bearishness towards Cheniere Energy could be attributed to the following factors:
rising leverage
weak LNG (liquefied natural gas) demand from major markets, including Japan and South Korea
growing global LNG supplies may impact Cheniere Energy's uncontracted LNG volumes
Top five holders
Icahn Associates, The Baupost Group, The Vanguard Group, Kensico Capital Management, and BlackRock Institutional Trust are the top five institutional holders in Cheniere Energy. Icahn Associates, which is promoted by well-known investor Carl Icahn, is the largest institutional holder in Cheniere Energy. Icahn Associates hasn't changed its position in the company. It held 13.7% of the outstanding shares in the company as of March 30, 2017.