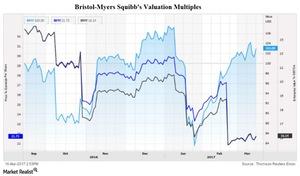 Bristol-Myers Squibb's Valuation Compared to Its Peers'
By Mike Benson

Updated
Bristol-Myers's valuation
Headquartered in New York City, Bristol-Myers Squibb (BMY) is an American pharmaceutical company dealing in innovative medicines for patients with serious diseases in therapeutic areas such as virology, oncology, cardiovascular, neuroscience, and immunoscience.
Bristol-Myers Squibb's top line rose 17% to ~$19.4 billion in 2016, driven by an operational rise of 19% in its revenue and offset by the 2% negative impact of foreign currency.
Article continues below advertisement
From an investor's point of view, the two best valuation multiples used to value companies such as Bristol-Myers Squibb are forward PE (price-to-earnings) and EV-to-EBITDA (enterprise value to earnings before interest, tax, depreciation, and amortization), considering the relatively stable and visible natures of their earnings.
Forward PE
PE represents what one share can buy for an equity investor. As of March 16, 2017, Bristol-Myers Squibb was trading at a forward PE of ~20.0x, compared to the industry average of 16.4x. Over the last year, the company's forward PE has traded in the range of 16.2x–29.9x.
BMY is trading at a lower PE compared to its competitor Eli Lilly (LLY), which is trading at a forward PE of 20.2x. BMY is trading at a higher forward PE compared to its competitors Johnson & Johnson (JNJ) and Merck & Co. (MRK), which are trading at PEs of 17.8x and 16.5x, respectively.
Article continues below advertisement
Forward EV-to-EBITDA
On a capital structure–neutral and excess cash–adjusted basis, Bristol-Myers Squibb is currently trading at a forward EV-to-EBITDA of ~16.9x, much higher than the industry average of ~10.9x. Other competitors such as Eli Lilly, Johnson & Johnson, and Merck & Co. have forward EV-to-EBITDAs of 14.4x, 12.1x, and 9.8x, respectively.
Analysts' recommendations
According to data released on March 16, 2017, BMY's stock value has fallen 9.5% over the last 12 months. Wall Street analysts expect the stock to fall ~3.8% over the next 12 months. Analysts' recommendations show a 12-month target price of $55.46 per share for BMY, compared to its last price of $57.65 per share on March 15, 2017.
Of the 23 analysts covering Bristol-Myers Squibb, ~43.5% recommend "buys," 47.8% recommend "holds," and only 8.7% recommend "sells" on the stock. Changes in analysts' estimates and recommendations are based on changing trends in the stock's price.
To divest risk, investors can consider ETFs such as the Vanguard Mega Cap 300 Growth ETF (MGK), which holds ~1.3% of its total assets in Bristol-Myers Squibb.