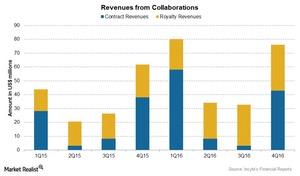 Who Is Incyte Collaborating With?
By Mike Benson

Mar. 1 2017, Updated 10:36 a.m. ET
Incyte's Jakafi and its collaborations
Incyte's (INCY) Jakafi is distributed in the United States through a network of specialty pharmacy providers and wholesalers for direct delivery to patients or patients' pharmacies. The distribution model for US markets is well established and familiar to physicians in the oncology field.
For outside the United States, Incyte has collaborated with Novartis (NVS) to develop and commercialize Jakafi. Novartis sells Jakafi under the name Jakavi. Incyte gets royalties on sales of Jakavi.
Article continues below advertisement
Other collaborations and developments
Below are some of Incyte's other collaborations and developments.
Incyte announced an oncology research alliance with the University of Pennsylvania's Abramson Cancer Center on February 23, 2017.
Incyte and Calithera Biosciences (CALA) announced a global collaboration for CB-1158, a small molecule arginase inhibitor, on January 30, 2017.
Incyte and Merck & Co. (MRK) announced the decision to advance a clinical development program to investigate Incyte's epacadostat with Merck's Keytruda in four tumor types.
Incyte announced a strategic research collaboration with Merus (MRUS) to discover and develop bispecific antibodies based on Merus's Biclonics technology.
Incyte acquired Ariad Pharmaceuticals' (ARIA) European operations in June 2016.
Incyte received exclusive development and commercialization rights for Ariad Pharmaceuticals' drug Iclusig in the European Union and 22 other countries in June 2016.
Incyte entered into an agreement with Jiangsu Hengrui Medicine in September 2015 for exclusive worldwide development and commercialization rights of the drug SHR-1210, excluding the regions of China, Hong Kong, Taiwan, and Macau.
Incyte and Agenus (AGEN) entered into a license, development, and commercialization agreement in January 2015 for the discovery of novel immune-therapeutics using Agenus's proprietary Retrocyte Display antibody discovery platform. The companies amended the agreement on February 14, 2017, and converted the ongoing programs, including the GITR and OX40 antibody programs, to royalty-bearing programs from co-funded development and profit-sharing programs. These programs will now be funded by Incyte, which will be responsible for conducting development and commercialization globally.
Eli Lilly (LLY) has received exclusive global rights for the drug baricitinib, a JAK (Janus kinase) inhibitor presently in the pivotal stage for the treatment of rheumatoid arthritis and in clinical studies for the treatment of atopic dermatitis.
To divest the risk, you can consider ETFs such as the Vanguard Health Care ETF (VHT), which holds ~0.50% of its total assets in Incyte.