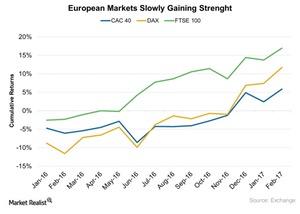 What to Expect from European Markets in 2017
By Mary Sadler

Dec. 2 2019, Updated 9:54 a.m. ET
European markets are gaining momentum
Stock prices across European markets (VGK) (HEZU) rose on February 21, 2017, and business activity in the Eurozone reached a six-year high. The FTSE 100 (UKX-INDEX), the United Kingdom's benchmark index, touched its highest level since December 2015, ending up with a rise of 16.0% at 7,296 points. The PMI (Purchasing Managers' Index) showed expanding Eurozone activity at a much faster rate, beating expectations.
Article continues below advertisement
Why the European markets are surging
European markets have been surging on the positive backdrop of the European Commission's Winter 2017 Economic Forecast. As of February 21, 2017, European markets have risen across the indexes. France's CAC 40 (PX1-INDEX), Germany's DAX (DAX-INDEX), and the FTSE 100 (UKX-INDEX) have risen 0.48%, 0.20%, and 0.02%, respectively.
According to the European Commission's forecast, the Eurozone is expected to grow 1.6% and 1.8% in 2017 and 2018, respectively. The upward revisions from its autumn forecast is due to a better-than-expected performance in the second half of 2016 and the beginning of 2017.
Advanced economies outside the United States are expected to benefit from the spillover effect of economic activity in the United States. European exports are expected to get a boost from the rising interest rate and the US dollar.
Inflation is also on the rise in the Eurozone since energy prices rose in 2016. Inflation is expected to rise to 1.7% in 2017 and 1.4% in 2018, compared to 0.20% in 2016.
Investments are also set to increase, supported by low financing and strengthening economic activity. Investments in the Eurozone are forecast to rise 2.9% in 2017 and 3.4% in 2018, according to the European Commission's Winter 2017 Economic Forecast. But in spite of all the improved economic activity, the Eurozone still is surrounded by higher-than-usual geopolitical uncertainty.
According to Bergman, managing director of Morgan Stanley Wealth Management, European markets are expected to provide better returns than their US counterparts since many companies are trading at low valuations. Some of the top gainers on February 22, 2017, were Ericsson (ERIC), Ternium (TX), comScore (SCOR), and UBM (UBM).
Let's move on now to the next part and see what the US bond market is doing with the recent improvement of economic activity in the United States.