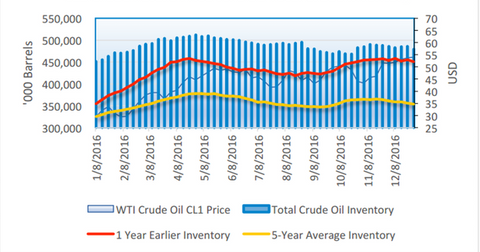 Why Oil Prices Are Likely to Get More Volatile
By John Love

Updated
Article continues below advertisement
USCF
As I stated last quarter, volatility is likely to remain significant in 2017, due to the huge inventory glut, and despite positive trends, until we see real meaningful surplus declines then the price is unlikely to stabilize. That said, it seems likely that prices are unlikely to drop back to 2016 lows and certainly unlikely to get anywhere near pre-2014 highs.
The lack of meaningful change becomes more apparent when we compare a typical chart of inventory on an absolute basis (above) to a chart showing inventory relative to its five-year average (below).
When considering all liquid petroleum products rather than crude alone, a more determinate pattern can be observed. As above, some of this decline is seasonal. However, a turning point may have been reached if drillers don't overreact to higher prices in 2017.
Speaking of which, two years ago, when the oil crash began, the United States produced an average 8.5 million barrels of oil per day (mbd) (Jun-Aug 2016), a massive and unprecedented increase over the preceding years. Supply continued to increase until the summer of 2015, where it peaked at 9.6 mbd. By summer 2016, we are back to about 8.5 mbd. U.S. production, at that point, appeared to have come full circle since the crash began. However, prices enticed producers to increase supply and 2016 ended with U.S. supply at nearly 8.8 mbd.
Market Realist
The EIA (U.S. Energy Information Administration) reported that monthly US crude oil production rose 232,000 bpd (barrels per day) to 8.8 MMbpd (million barrels per day) between September and October 2016. Production rose 2.7% month-over-month but fell 6.0% year-over-year. US crude oil production rose for the second time in three months, and this rise in production could pressure crude oil prices.
Rapid swings in US oil (DNO)(BNO)(USCI) production mean that any meaningful rise in prices will be met with a production hike by American producers, which suggests that there could be a cap on oil prices. The EIA estimates that US crude oil production will rise 110,000 bpd to 9.0 MMbpd between 2016 and 2017. Also, Donald Trump's proposed energy policies could lead to an increase in US drilling activity.