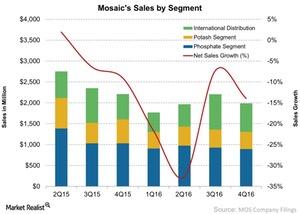 A Look at Mosaic's Segment Sales in 4Q16
Segment sales
In 4Q16, Mosaic (MOS) earned most of its revenue from its Phosphate segment, followed by International Distribution and Potash. Phosphate fertilizer revenues from Brazil, India, China, and Paraguay are reported under the company's International Distribution segment. Previously, they were reported under the Phosphate segment.
Mosaic is one of the largest producers of phosphate crop nutrients. To learn more about Mosaic, read An In-Depth Assessment of Mining Company Mosaic.
Article continues below advertisement
Overall sales fell
Overall, Mosaic's 4Q16 revenue (including its Corporate and Other segments) fell 13.9% to ~$1.9 billion year-over-year, from $2.2 billion in 4Q15.
The Phosphate segment, which contributed 45.0% of Mosaic's 4Q16 revenue, fell 13.3% to $896.0 million year-over-year, from ~$1.0 billion in 4Q15.
The revenue from International Distribution, which contributed 35.0% to the company's revenue, rose 13.1% to $684.0 million year-over-year, from $605.0 million in 4Q15. However, growth in this segment wasn't enough to offset the declining Phosphate and Potash segments. The fertilizer distribution business in Brazil and Paraguay is reported under this segment.
The Potash segment, which contributed ~20.0% to the company's revenue in 4Q16, fell 28.8% to $407.0 million year-over-year, compared to $572.0 million in 4Q15.
For 2016, Mosaic's sales fell 13.0% year-over-year to $1.9 billion.
Why did sales fall?
The industry (XLB) is impacted by industry-wide fundamentals such as crop prices, global supply, demand, and fertilizer prices. All of the fundamentals have been impacted negatively for the last few years. Sales for Mosaic and other players are falling due to falling commodity prices. Low prices, especially for fertilizers, had a negative impact on Mosaic's sales.
PotashCorp (POT), Agrium (AGU), and Intrepid Potash (IPI) were also impacted. We'll be looking at this in more detail in the rest of this series.
Recently, PotashCorp announced its 4Q16 earnings, which can read about at PotashCorp Reports 4Q16 Earnings: Stock Falls 3%.
In the next part, we'll take a look at shipments for Mosaic's Phosphate segment.