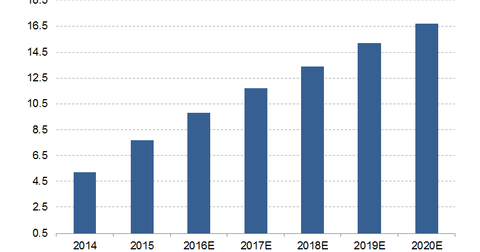 Here's How Facebook Could Tilt Balance in Digital Video Market
By Neha Gupta

Updated
Sharp revenue growth source of hope and uncertainty
The 53% increase in Facebook's (FB) advertising revenue in 4Q16 put a smile on the faces of its shareholders but also raised questions on Wall Street about whether the company can sustain this growth.
As Facebook's business is primarily funded by advertising, the company has been working to draw more advertisers to its platform, and that has recently led to an aggressive video push. eMarketer forecasts that US digital video ad spending will reach $16.7 billion by 2020, up $5.2 billion in 2014.
Article continues below advertisement
Buying Spotify could give Facebook a major lift
But in the digital video space, Facebook has a long way to go to catch up with Alphabet's (GOOGL) YouTube. Some analysts such as Richard Kramer of Arete Research have suggested that Facebook could tilt the video balance in its favor by acquiring strategic assets such as Spotify and Activision (ATVI).
The reasoning behind Spotify and Activision making a perfect match for Facebook's video push is that Internet users spend a lot of time listening to music, playing games, and streaming video. If Facebook can provide all three together, it could significantly increase the amount of time subscribers spend on its platform, which would allow it to generate more advertising revenue because user engagement is one of the key metrics that marketers consider when deciding which platform to spend their advertising budgets on.
It will take a serious fight to succeed