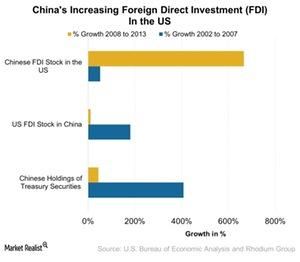 China's US Investments: Where We're Headed
By Mary Sadler

Feb. 15 2017, Updated 5:36 p.m. ET
China's foreign direct investments in the US
Investments play a significant role in the growing ties between the US and China. China's foreign direct investments in the US are increasing, though less than in other parts of the developed world.
China ranks third in foreign direct investments in the US. China's stock investments in the US account for less than 1% of total foreign direct investments.
Article continues below advertisement
Increasing investments by China in the US
According to a recent Rhodium Group report, Chinese investments in the US, including completed acquisitions and greenfield investments, totaled ~$45.6 billion as of December 2016. The threefold increase from 2015 is majorly driven by private sector acquisitions in services, technology, consumer-oriented assets, and capital-intensive greenfield projects in real estate and manufacturing.
China's investment in US stocks had risen ~665% as of 2013, as compared to its rise of 55% from 2002 to 2007. The estimate of Chinese investments that support US jobs is ~104,000 jobs, or $10.8 billion in GDP, as of 2015.
China is also the biggest foreign holder of US government debt, with ~$1.2 trillion in assets like bonds, notes, and bills as of September 2016. China's holdings in the US Treasuries fell to the lowest level in the past four years due to a reduction in dollar reserves by China. As of 2013, there had been a 44% rise in US Treasuries held by China since 2007, which has been on a decline in the past few years.
Article continues below advertisement
Impact on the US economy
The surge of Chinese outward foreign direct investments in the US has far-reaching implications for the US (SPY) (VOO) economy. Specifically, Chinese foreign direct investments are helping the US stimulate its economic activities and create employment opportunities.
As of 2011, the value added by majority-owned US affiliates of foreign companies accounted for 4.7% of total US private output. These firms employed about 5.6 million people in the US, representing about 4.1% of private sector employment.
US affiliates
US affiliates account for about one-third of the total manufacturing jobs in the US, and US affiliates account about 9.6% of the US private investments, as compared to 15.9% of US private research and development spending. The compensation provided by the US affiliates also has been higher than the US average over time—in both manufacturing and non-manufacturing jobs.
Some of the US companies owned by Chinese enterprises include Starwood Hotels (HOT), Smithfield Foods (SFD), Ingram Micro (IM), and Terex (TEX).
For more information on global trade and the outlook for 2017, check out Market Realist's Global Economy in 2016 and Expectations for 2017.