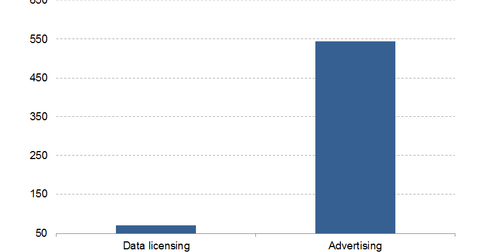 Can Twitter Unlock New Revenue Streams?
By Neha Gupta

Feb. 2 2017, Updated 7:37 a.m. ET
It's no longer enough to rely on ad spending
Twitter (TWTR) relies heavily on ad spending for the bulk of its revenue. Of the $616.0 million in revenue generated in 3Q16, advertising accounted for $545.0 million. The rest of the revenue came from data licensing. However, advertising revenue rose only 6.0% YoY (year-over-year) in the quarter, signaling tough competition for digital ad spending.
Twitter's heavy reliance on ad revenue at a time of fierce competition for ad spending raises multiple questions about its future. As the company reports 4Q16, investors and analysts will be looking for clues not only on how management plans to strengthen existing revenue streams, but also on how it will unlock new revenue opportunities. These opportunities could ensure that Twitter will remain in business for a long time.
Article continues below advertisement
Twitter's peers are diversifying
While Twitter has shown little activity in revenue diversification, its rivals Facebook (FB) and Google have stepped up their search for new growth opportunities outside advertising.
Facebook forked out ~$3.0 billion to bring virtual reality (or VR) systems developer Oculus VR under its wing, enabling Facebook to expand into the hardware space. Several Facebook executives, including CEO (chief executive officer) Mark Zuckerberg, are positive about the future of VR, saying VR systems could be as transformative as smartphones.
In another revenue diversification step, Facebook is developing WhatsApp into a subscription service rather than an ad-funded business. WhatsApp could push against AT&T (T) and Verizon (VZ) in the battle for business spending on communication services.
Alphabet (GOOGL), the parent of Google, also has several non-ad businesses, including smartphones, home automation systems, and Waymo, its self-driving vehicle.
Snap, the owner of Snapchat, is also expanding into the hardware space with smart sunglasses called Spectacles. LinkedIn's decision to sell to Microsoft (MSFT) also appears to have a dose of revenue diversification.
If Facebook and Google aren't putting all their eggs in one basket, why would Twitter risk doing that?