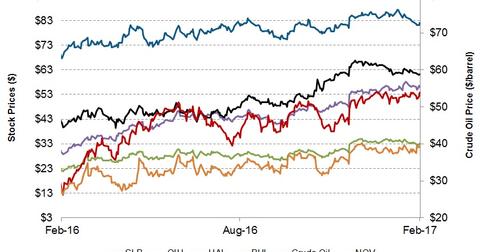 Analyzing the 1-Year Returns of 4 Oilfield Services Giants
By Alex Chamberlin

Nov. 20 2020, Updated 2:48 p.m. ET
Four oilfield service giants
In this series, we'll compare the four most prominent US oilfield equipment and services (or OFS) companies, all of which have market caps of over $5.0 billion. These companies are Schlumberger (SLB), Halliburton Company (HAL), Baker Hughes (BHI), and National Oilwell Varco (NOV).
Article continues below advertisement
What's happening in the market and the industry?
In the past year, the VanEck Vectors Oil Services ETF (OIH) has risen ~50%. OIH is an ETF that tracks an index of 25 listed OFS companies. Crude oil's price recovery in the past year partially explains the solid growth in OIH. West Texas Intermediate (or WTI) has nearly doubled in the past year. The SPDR S&P 500 ETF (SPY) has risen 25% during the same period.
Read the latest on crude oil in Market Realist's Oil Prices Recover Due to Gasoline Demand and Short Covering. The Dow Jones Industrial Average (DJIA-INDEX) has risen 27% in the past year.
Analyzing one-year prices
Halliburton has done better than most of its peers in the past year. Since February 10, 2016, its stock has risen ~90%. Despite the failure of its merger with Baker Hughes, steady earnings from some of its international operations have kept its returns ahead of its peers'. Halliburton provides services and products to upstream producers.
Schlumberger is the largest OFS company by market capitalization. SLB stock has risen 21% in the past year. SLB provides technology, integrated project management, and information solutions to energy producers. SLB makes up 19% of OIH.
Article continues below advertisement
Baker Hughes stock has risen ~47% in the past year. BHI provides drilling and evaluation and completion and production services to upstream producers. On October 31, 2016, Baker Hughes and General Electric (GE) entered into a partnership agreement. Read the latest on the deal in Market Realist's Can the BHI–GE Partnership Benefit from Global Growth?
National Oilwell Varco, which designs, manufactures, and sells equipment and components in the upstream industry, has performed in line with BHI, rising 48% in the past year.
Why did returns vary?
The US rig count, which has fallen sharply since October 2014, has finally improved, recovering 37% in the past year. Upstream companies' drilling budgets are also showing recovery signs. OFS companies' revenues and profitabilities could improve when upstream companies' drilling and productions pick up again, although their performances will also depend on the diversity of their business models.
Many offshore projects have been deferred in the past two years as a result of depressed crude oil prices. These deferrals have negatively affected OFS companies supplying products and services to offshore upstream companies. For more information, read Market Realist's Where's the Offshore Drilling Industry Heading?
Series highlights
In this series, we'll compare the above-mentioned large cap OFS companies based on fundamental drivers, as well as industry and market indicators. We'll also discuss Wall Street analysts' target prices for these stocks.
Next, let's compare the changes in these companies' 2016 revenues.