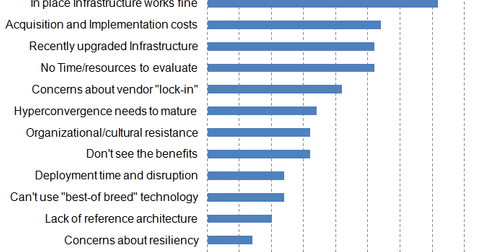 Would an HPE-SimpliVity Deal Push VMware to a Buyout?
By Anne Shields

Updated
HPE-SimpliVity deal could spark M&A spree in the HCI space
So far, we've learned how Hewlett-Packard Enterprise's (HPE) acquisition of SimpliVity would affect the overall HCI (hyper-converged infrastructure) space.
Sharing its views on the HPE-SimpliVity acquisition and citing Krista Macomber, a senior analyst with Technology Business Research, arnnet.com stated, "HPE's planned SimpliVity buy reflects the need for agile innovation and selling models in a disrupted data centre market, and foreshadows further vendor consolidation."
Article continues below advertisement
It's very likely that SimpliVity's acquisition will mark the onset of a mergers and acquisitions (or M&A) spree in the HCI space. We saw a similar trend in the cloud space in 2016 when, in a bid to outdo each other and gain domain expertise and market share in the cloud space, software companies engaged in an M&A spree.
Major players' participation to enhance HCI deployment
The above presentation by Statista depicts the results of a survey organized by ActualTech Media in 1H16. It asked respondents to provide the primary reasons behind their plans not to deploy hyperconverged infrastructure.
As we can see, 17% of respondents said that hyper-convergence needs more time to mature. Earlier in the series, we discussed how the increased participation of leading players such as HPE and VMware (VMW) would provide more visibility to the HCI space, leading to increased adoption.
As the HPE-SimpliVity deal is believed to be a game changer, it's likely to put pressure on other major players in the HCI space to resort to acquisitions to better their positions. The expected M&A spree is likely to lead to innovation and market share growth. It could also spur an uptick in alliances and partnerships in the space, leading to consolidation.
We saw a similar trend in the cloud space, wherein many leading players joined hands to report record growth. Among these mergers, Amazon (AMZN) and IBM (IBM) joined with VMware to grow in the hybrid cloud space.